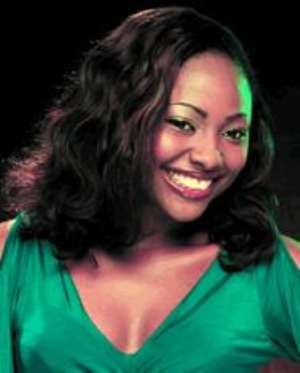 How long
I have acted for two years and I do strictly soap. I am part of Living in Lagos, a new citicom that is making waves in the country. I also did Now we are married, About to wed, School and The Patriots. These are the ones I can remember for now.
Challenges
As far as I am concerned, there are no challenges because challenges is meant to improve me. It is meant to sharpen and make me get things right. So far, I have been able to overcome all the challlenges.
First experience on set
I was very nervous even though I was already used to smile and snap of a thing but by the time they took the long shot, the medium, the close-up and all that, my mouth was shaking. But it was quite good and I think it is applicable to everyone.
Role model
My role model is not a Nigerian. He is Daison Washington. He is also my mentor and in every way, I aspire to be like him.
Parents' reaction
In 2002 when I wrote my WAEC, I gave my dad a modelling form to fill for me and he tore it to pieces because he felt that in modelling, you walk the wrong way and at the same time expose your body. There is a saying that one should make his or her desire deep-rooted and not skin-rooted because when it is skin-rooted, one or two people can just up root it.
So, I allowed my dad to see the desire in me by not agreeing to every word he actually said to me at that time. I went ahead to do what I actuallly loved doing and when I finished from the university too, he asked me if I was sure that I was still going to stick to modelling and I said yes. Meanwhile, I started paying my school fees from my third year but he was actually angry because there was no time for me to come back home to ask for money. I had already started making money at that age and he saw that I had desire in what I was doing and he accepted and believed that there was no bad thing attached. I do strictly advert so when he saw it, he was not angry. When I went into acting too, I showed him some couple of things I did and he was impressed.
Advertisement
Sex for role
Of course, I won't do that. How long will I keep sleeping around for roles. It is unimaginable for someone who wants to excel in her profession.
Sexual harassment
I have not been sexually harassed and it will never happen.
Expectations
Basically, I am doing this because this is what I love doing and in a couple of years, I hope this brings the money that I am looking at. I hope so because there is corruption in movie and modelling industries now. People are desperate and can accept any thing to get roles just because they want fame. Some girls accerpt jobs worth N500,000 for merely N20,000 only because they want fame.However, I am different. I am not looking for fame but the monetary aspect alone. I also wish to be married in years to come.
Regrets
My only regret was that back then in secondary school, I knew I had the talent of entertainment but I was very good in Physics, Chemistry and all that. So, I was pushed into the Science Department and that led me into graduating as a science student. But I would have prefered to be a graduate of Arts.
Quitting the industry
I will only quit when I die. Even after marriage, I still expect to remain in the industry because my man must love what I love. If he sincerely loves me, he would not tell me to quit my profession for any reason whatsoever.