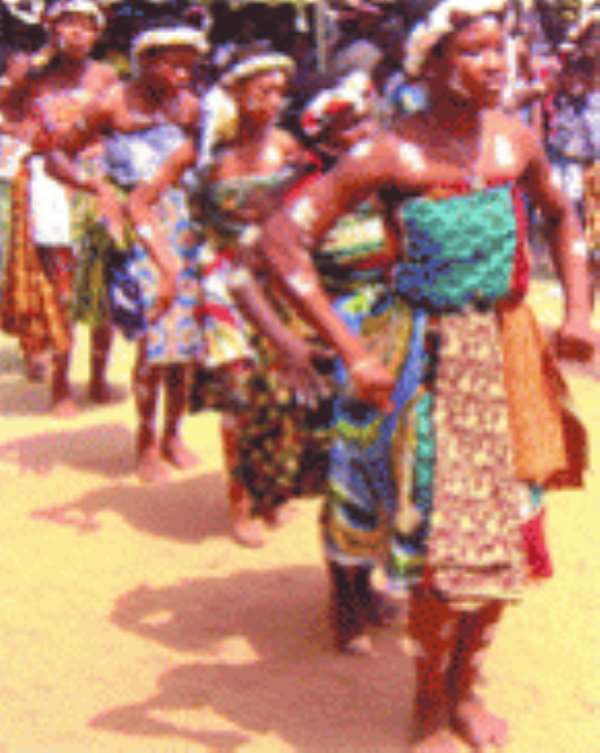 The cultural display that earned Golden Gate School the first place in that category
Pupils of Learners' International School staged a drama entitled "The Destruction of Ashanti Kingdom".
For most of the children who gathered at the Azumah Nelson Sports Complex to observe and participate in the 'Realise 2009' competition, it was the drama performance by the Learners' International School that thrilled them most.
The pupils of the school staged a drama entitled "The Destruction of Ashanti Kingdom". They performed so beautifully that they received a loud applause and cheers when they were declared winners of the drama competition.
Starward School and Little Daisy School, which also put up thrilling performances, picked up the second and third places respectively.
The competition saw over 1,000 pupils from 26 schools in the Greater Accra Region participate in drama, singing and cultural performances.
Realise 2009, which was organised by the Crystal Dag Consult and sponsored by Indomie, sought to bring together children from various schools to compete and have the chance to build their confidence in public speaking, mix well in social gatherings and, above all, have fun.
Aside the drama, there were performances in cultural displays, singing and a pick-and-act game.
Participating schools included Starward School, Golden Gate Academy, Teshie Methodist, Heroes Academy and Mayflower School.
Golden Gate Academy won the cultural display contest, while Mabel Amewugah of the Teshie Methodist School won the singing competition.
Christian Donkor of Glorious King School took away the first prize in the pick-and-act competition.