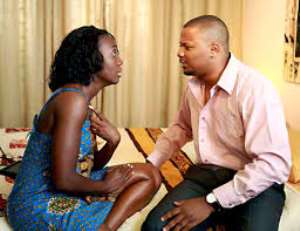 1. This was a question posed to me by a concerned single youth who is desiring to enter marriage but scared because of divorce rates. My answer to her was "There are many factors but from biblical perspective, I perceive only one factor as the root cause"; MANY SPOUSES DON'T SEE THEIR MARRIAGE AS THEIR NEW NUCLEAR FAMILY; THEY ARE STILL MUMMY'S BOY AND DADDY'S GIRL. In this short article, I seek to share for our joint reflection and discussion, the detailed response I gave to him. Points (1) to (8) gives the Overarching Framework for Marriage as God intended it to be while points (9) to (13) details the ROOT CAUSE of Divorce aforementioned. Enjoy reading!
2. In the beginning was the Word and the Word was with God and the Word was God. The Word is Life; nothing can be made or made to stand without grounding it on the Word (Jn. 1:1-4). The Word is Christ; Christ is the ROCK SOLID FOUNDATION. Anything built on the Word (Christ) stands the test of time- the rains, the storms, the fire etc. (Matt. 7:24-27)
3. The FOUNDATION for Fruitful Marriage is clearly spelt out in the Bible but as usual the Devil will distract us from the "Tree of Life" (God's Wisdom) to choose the "Tree of the Knowledge of Good & Evil" (Worldly Wisdom). When we reject God's Wisdom as the ONLY SURE FOUNDATION for anything we "build", surely, one day, it will perish; it will crumble when subjected to the test of time
4. So what is the BIBLICAL FOUNDATION for Marriage? It is spelt out in Genesis 2:24-25, thus, "For this reason, a man shall LEAVE his father and mother and be UNITED to his wife, and they will become ONE FLESH. The man and his wife were both NAKED, and they felt NO SHAME" (caps mine for emphasis).
5. For what reason will a man leave his father and mother and be united to his wife to become one flesh? Because the WIFE was taken out of him; the moment, a man finds a wife, he has found a long lost rib; a COMPLEMENT; he has found someone God has prepared to partner him for impact at such a time as this.
6. When one is SINGLE, Jesus, our EVERLASTING FATHER gives him or her satisfaction and help which is far beyond what human spouses can give us. Hence, whether we are married or not, in Christ, we are COMPLETE (Col 2:10). Once we get married, our spouse MUST partner with Christ to satisfy our needs and bring out GOD'S BEST in and for us. A spouse must always pray, thus, "Father, what are you up to in the life of my wife/husband and what is my role?"
7. Now, back to Genesis 2:24-25 (Biblical Foundation for Marriage). We realise that, GODLY MARRIAGE is between a man and a woman; this means godly marriage is HETEROSEXUAL not HOMOSEXUAL. We also see that godly marriage is MONOGAMOUS; the wife is THE RIB (not ONE OF THE RIBS) for the man since the man has ONLY ONE AVAILABLE RIB SPACE.
8. Hence, when one finds a wife, he fills his vacant RIB SPACE. If the man dies or the woman dies, GOD brings SEPARATION of THE RIB from the RIB SPACE and the living spouse can look for a new spouse. The implication is that, if you are a SIDE CHIC, you are ungodly; you are a percher; three is a CROWD; God's judgment hangs over your head. Another implication is that godly marriage is NOT POLYGAMOUS; there is only ONE RIB SPACE at a time until death for ONE FLOATING RIB; Abraham sacked his side chic (Hagar) and remained monogamous with Sarah; it was only after Sarah died that he married Keturah (Kindly read Genesis 21:8-13; 23:1-2; 25:1).
9. Now to the ROOT REASON some (especially, new and young) Heterosexual Monogamous Marriages easily ends in Divorce. According to Genesis 2:24-25 (the Biblical Foundation for Marriage), the man MUST LEAVE and CLEAVE to his wife so THE TWO will become ONE FLESH. Here is where the issue is! Satan will do all he can either by DECEIVING us directly in our minds to misjudge our marital issues or using people to DECEIVE us and INTERFERE so that this "LEAVING TO CLEAVE TO BE UNITED" will NEVER TAKE PLACE! Satan divides to rule!
10. What does it mean "TO LEAVE" as used in Genesis 2:24-25? (Remember that meanings of words are based on the context within which they are used). The word "LEAVE" used in Genesis 2:24-25 is from the Hebrew Word "AZAB" which means "to forsake, abandon, leave behind, desert, put aside and to release". It is the same word that is used when God says "I will never FORSAKE the righteous" (Psa 37:25, 33). God also warns that, if we FORSAKE (Azab) Him, He will forsake us and leave us to go through our challenges alone; the RELATIONSHIP is not broken but He will HIBERNATE in our lives if we FORSAKE Him.
11. On the cross, when Jesus shouted "My God, My God, why have you FORSAKEN me", He was quoting from Psalm 22:1; it is the Greek equivalent to the Hebrew Word "Azab" which was used in Matthew 27:46. What it means is that "God the Father did not forsake His Son Jesus in the sense of breaking their FATHER-SON RELATIONSHIP, but Jesus had to go through the suffering ALONE because, though the relationship was intact, the Father couldn't associate with Jesus because of our sins He carried.
12. Thus if God says one must "LEAVE" his or parents to CLEAVE to his or her spouse, it simply means YOUR PARENT REMAINS YOUR PARENTS BUT THEY MUST NOT BE THE "BOARD OF DIRECTORS" IN YOUR MARRIAGE; YOU MUST NOT BE ATTACHED TO THEM IN YOUR MARRIAGE. MARRIAGE IS YOU AND YOUR SPOUSE ALONE. Others can offer advice, suggestions and help but all such must be accepted or rejected with a UNITED FRONT. DON'T PERMIT ANY EXTERNAL INFLUENCE FROM ANYBODY TO POLARIZE THE VIBE, ROMANCE AND UNITY OF YOUR MARRIAGE. IF YOU ARE MUMMY'S BOY OR DADDY'S BOY, IT MEANS YOU HAVE STILL NOT LEFT (AZAB) YOUR PARENTS TO BEGIN THE PROCESS OF BECOMING ONE (UNITED) WITH YOUR SPOUSE.
13. Once we "LEAVE TO CLEAVE TO BECOME ONE", all other putative factors contributing to divorce lose their power! LEAVE! LEAVE!! LEAVE!!! Avoid the Mummy's Boy and Daddy's Girl Syndrome! CLEAVE TO THY SPOUSE; THINK TOGETHER; EAT TOGETHER; BATH TOGETHER; SLEEP ON THE NARROWEST BED POSSIBLE; PRAY TOGETHER; READ TOGETHER; ROAM TOGETHER; HAVE MORE SEX PER WEEK; UNDERTAKE PROJECTS TOGETHER. YOUR SPOUSE AND KIDS ARE YOUR NEW NUCLEAR FAMILY THOUGH YOU MUST CONTINUE TO LOVE AND HONOR YOUR PARENTS, SIBLINGS AND OTHER ASSOCIATES ON THEIR OWN MERITS (Disclaimer: caps used for emphasis only).
14. Thus, "LEAVING" does not mean vacating your parents house if that is the only place you can stay for now. Leaving means you can still stay there but you don't allow interferences in your marriage. You can LEAVE while you are still staying there. However, to minimize the tendency for interference, make plans to physically leave their house to rent your own house as soon as possible