Discussions
Opinions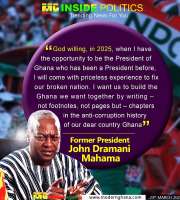 Relevant Links
Media Links
MODERN GHANA WEB POLLs
Polls for 2023
19-09-2023
If you were a Dome Kwabenya constituent, would you re-elect Adwoa Safo as your MP?
11-08-2023
We must adopt a local dialect as our official language - Bagbin
03-07-2023
Should government abort the criminal trial of James Gyakye Quayson?
30-04-2023
Is there a genuine willingness from the authorities to fight Galamsey?
16-02-2023
Is Government Size Still Justifiable In This Economic Hardship?
01-02-2023
Do you support the reshuffle of the Minority Caucus?
05-01-2023
Year in Review: Has the minority served the people well?


Polls for 2022
09-12-2022
Is Ghana On Track For Recovery?
18-11-2022
Can Ghana Win The World Cup?
02-11-2022
Economic crisis: Do you support the call for Ken Ofori-Atta to resign?
14-10-2022
Who wins NDC General Secretary race?
01-07-2022
Is IMF the solution to Ghana's economic challenges?
20-05-2022
Who wins NPP Ashanti Regional Chairmanship race?
30-03-2022
Is E-Levy Good For Ghana?
20-02-2022
Do You Support E-levy?
05-01-2022
Are There Too Many Public Holidays in Ghana?


Polls for 2021
29-12-2021
Which Country do you tip to win AFCON 2021?
26-07-2021
1992 Constitution: Indemnity clause, Ex-gratia, etc... Do we still need these?
14-07-2021
Should the State continue vehicle loan arrangement for MPs and Council of State members?
19-05-2021
Should we fix our attitude or fix the country?
14-05-2021
Are the AFRICAN leaders the ONLY reason to why Africa is not UNITED?
11-05-2021
FIX THE COUNTRY: Which top critical areas do you think gov't should fix?
26-04-2021
Which Presidential ticket is your preferred choice for the 2024 election?
11-04-2021
What do you think is to blame for Ghana's revisited power crisis in recent times?
12-02-2021
Why do African Judges still wear wigs?
08-01-2021
Is Alban Bagbin's Speakership Victory Good For Ghana Democracy?


Polls for 2020
17-11-2020
What Caused Martin Amidu To Resign From His Job?
30-10-2020
Does NPP Deserve Another Term?
28-10-2020
US Presidential Election 2020 - Who Would Be The Next President?
21-09-2020
Who Stands Better Chance Of Winning The 2020 Presidential Election?
04-09-2020
Do You Believe Ghana Has So Far Managed COVID-19 Very Well?
19-08-2020
WASSCE Examination Leakages: Do You Agree That WAEC Monopoly Should Be Broken??
23-07-2020
Mid-Year Budget Statement: Are You Impressed By The Various Economic Interventions Gov't Is Undertaking?
07-07-2020
Do You Believe John Mahama Selecting A Woman Running Mate Will Change Ghana Politics?
01-06-2020
COVID-19: Do You Think Safety Protocols Will Be Strictly Adhered To As Restrictions Ease Up?
11-05-2020
Do You Believe It Is Wise For The Government To Lift Ban On Churches And Social Gatherings??
23-03-2020
Coronavirus Pandemic: Are You Happy With The Measures So Far Introduced By The Ghana Gov't??
05-03-2020
Ghana Celebrates 63 Years Of Independence: Are You Proud Of All Achievements So Far??
20-02-2020
Minority 'boycott' of 2020 State of the Nation Address: Is it Justifiable?
19-01-2020
Ghana Needs A New Voter's Register: Do You Agree With The EC??


Polls for 2019
31-12-2019
Do You Support The Single Currency Agenda Mooted By West African Countries?
02-12-2019
Is The Introduction Of New Ghana Cedi Notes 100 & 200 Cedis Necessary?
20-11-2019
December Referendum: Do You Think A YES Or NO Vote Will Make Any Difference In Ghana??
11-11-2019
Do You Believe Nepotism And Cronyism In Ghana's Politics Will Ever Stop??
26-10-2019
Rotten PDS Scandal: Do You Think Heads Must Roll And Shouldn't Just End At Termination?
01-10-2019
Sexuality Education Brouhaha: Do You Think Ghana Needs This Education So Badly??
28-09-2019
Recent Coup Plot Scare: Do You Believe Ghanaians Should Take It Serious?
05-09-2019
Xenophobia: Do You Agree With The SA High Commissioner To Ghana That Government Should Create Jobs For Ghana Youth
29-08-2019
Politicians Spend Hard Cash To Win Power, Do You Think Corruption Will Stop In Ghana?
12-08-2019
Do You Think Politicians Are To Blame For PDS Brouhaha??
09-07-2019
AFCON FIASCO: Coach Akwasi Appiah Should Still Handle The Black Stars
08-06-2019
Should Churches be Regulated For Abuses?
09-05-2019
Is Public Education In The Ongoing National ID Exercise Not Enough?
13-04-2019
Can Ghana win AFCON 2019?
27-03-2019
Okada As Commercial Transport Should Be Banned??
16-03-2019
On Vigilantism And Militia Politics: NPP, NDC Are All Guilty?
06-03-2019
Uprising After 2020 If Things Don't Change - Duncan-Williams
11-02-2019
Ayawaso West Shooting: Do You Believe The Work Of The Commission Of Inquiry Will Help Prevent Future Electoral Violence??
12-01-2019
MenzGold Brouhaha: Do MenzGold Customers Deserve Government Compensation?
01-01-2019
Doom Prophecies: Should parliament pass law to regulate churches establishment?