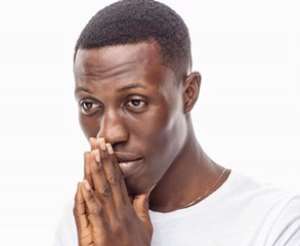 J.Derobie
Young Ghanaian reggae-dancehall artiste Derick Obuobie Junior, known in showbiz as J.Derobie has opined about the calibre of his "poverty" hit track.
The song shot him into the limelight and additionally won him the 2020 reggae-dancehall song of the year at the Vodafone Ghana Music Awards (VGMAs).
Asked by Amansan Krakye on his show on the Cape Coast-based Kastle FM, whether he accepts that the song is known more than himself, he answered in affirmation.
"Oh, I agree to that to some extent that my poverty hit song is bigger than me or well-known than me because the song really went viral," he confirmed.
The award-winning singer added that while many people can sing his song from beginning to end, they have no idea who wrote the lyrics or sang it.
"Some people even learned how to sing the words of my poverty song before I did the recording of the song in the studio," he stressed.
"I will agree to some extent that indeed the poverty song is more popular even than me who sang the song," J.Derobie concluded.
Meanwhile, following his return from hiatus, the young artist has released a new song titled "Ato Me So."