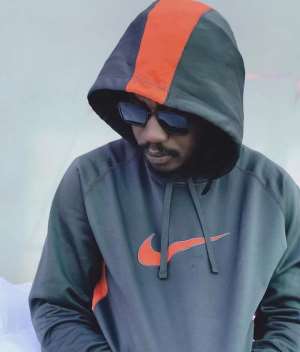 It's that time of the year that every artiste across the globe is dropping bangers to feed their fans as they gear up for the yuletide season. The Ghanaian music scene is no exception.
As a music promoter and fanatic, I chanced on one Dancehall artiste who goes by the name "ALIGATA" on YouTube with a Dancehall freestyle titled "CHOP CHOP."
First few minutes into playing and re-playing the easy but hot freestyle video, I thought I was listening to a hot Dancehall kid from somewhere in Jamaica but NO!!!
This Aligata kid happens to be a homegrown dancehall lyricist who keeps dropping classic records back to back like it's nobody's business.
As curious as I was, I copied his Instagram handle(@1aligata) just to catch a vibe with him and let him know how big a fan I am of what he does.
Via our lengthy fun-filled conversation on Instagram, I got to realise how prolific he was and how unbothered he was and most importantly how non-desperate he was.
He said, "boss you see this music thing, it's something that's meant to be enjoyed first and foremost by me the artiste. That energy always transmits itself to neutral listeners all the time. I'm not in a rush for anything because I get my props from the top of the topest worldwide by the grace of God. Anybody who has taken time off to listen to me feels so happy that there is this stupid boy somewhere in Ghana called Aligata who is not a fluke LOL. Most of the vibes I drop is just to test the waters and at the right time and with the right resources, we will start major promotions like any other artiste these industry people compare me to are doing. For now I'm just enjoying my journey and perfecting my hustle..."
One thing that got me glued to his vibes is the big heart he has for other talented artistes he comes across by doing a lot of 'behind the scene' work while he waits patiently to explode organically...
He said "boss there are other things that give me even more joy than even putting out music and freestyles. Yes, my music gives me top ratings from certain influential industry peeps in Ghana, Jamaica, UK, USA, other African countries, Europe and pockets around the world which I'm grateful for. But not every 'LINK' that comes through has to be used immediately. My showbiz lifestyle goes beyond just creating and releasing music. God has blessed me with some of the dopest artistes who believe in my capabilities and have entrusted parts of their music journey into my care. So definitely the links must be passed on so the whole family grow bigger. It's a family culture. They also do same for me as artiste friends. Just know we rise by lifting others and no man is an island l..."
Aligata is one Dancehall act that we must really pay attention to spice up the variety we have already...