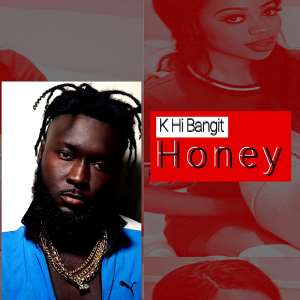 K-Hi as a musician, is not new to the music industry with regards to how many songs he has got on his talented musical sleeves.

Out goes the previous songs, in comes the freshest and latest offering, which he calls 'Honey'. While some are thinking about money, K-Hi is thinking and singing about 'Honey'.

As to whether 'Honey' is about real honey or something else, everyone's guess is just as right as they keep guessing.

In relaying the narrative behind this new song, K-Hi said: "This new single is inspired by the need to celebrate partnerships in a relationship amongst couples."

Listening to the music, some might be thinking it is a song that is based on a true love story but he said, "This song is not based on a true story but it's an imaginary concept developed into a story through the content of the song."

According to K-Hi Bangit, the lyrics of the song is to promote love and the other cherishing moments in some typical relationships.

Just in case, one does not know where to place this song in terms of genres or style, then do not worry, as he puts it as "It is an Afro-beats song with a modern day contemporary African style of music, which is popular amongst the youth."

Explaining what the production of 'Honey' entails with respect to its instrumentation, he said: "The style and genre of this song is a blend of African drum pattern, fused with pop melodies.

"After listening to the song, you can hear instruments like Conga, Maracas, Clicks, Kick, Snare, and Hi-hats played in an Afro style and fused with western pop style melodies, but the guitar in the song maintains a solid African root melody."

Given his talent as a song writer, drummer, pianist and a producer, he did not take part in the production of 'Honey' as that duty was ascribed to a different personality, saying: "The producer of this song is Beat Exclusives, he's signed to Hotline Music Group. He shies away from the camera but you can follow him on social media at Beat Exclusives."

Speaking of the moral that lies behind 'Honey' as a music, K-Hi said "The cue in this song is to appreciate a good partner when you find one. And always do your best to make them feel special.

"And cherish every moment of love, because it may or may not last forever." The link to the new single 'Honey' music video, is available now on


BY WILFRED CLARKE.