Check Out Rawlings Dance Moves @ Konadu's 70th Birthday Bash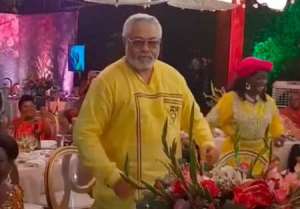 A video of former President Jerry John Rawlings and Nana Konadu Agyeman-Rawlings on the dance floor at Mrs. Rawlings' 70th birthday celebration in Accra has generated a lot of admiration from Ghanaians.
The video went viral over the weekend. It was widely circulated on various social media platforms, with many praising the couple for their display of love and 'great' dance moves.
It was, indeed, a beautiful sight to behold as Jerry Rawlings and his wife heartily danced to the admiration of all present at the ceremony.
In the video, the ex-president made some moves as if to dance 'Azonto', then he quickly switched to what one may refer to as highlife dance moves. Meanwhile, Nana Konadu, who is also famous for her dancing skills, was busy on the other side. After some few seconds, they hugged and Mr. Rawlings plunged a kiss onto the wife's forehead to show his utmost love for her to end the video.
Earlier reports claimed that Mr. Rawlings, who is the founder of the National Democratic Congress (NDC), left the party's congress grounds early, perhaps to attend his wife's birthday party.
This is perhaps a clear indication that he wouldn't want to miss the wife's birthday bash for anything.
The celebration was held at the Savana Events Centre in Accra and attracted a number of important personalities.
Popular comedian DKB was on the grounds to entertain the guests. There were also performances from King Promise, KK Fosu, Kwesi Pee and Ephraim.