Complete Profile: Preachers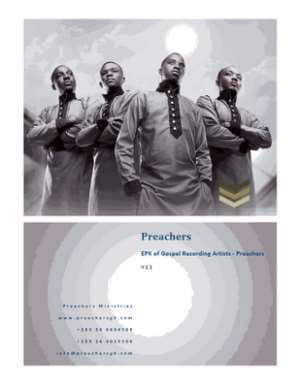 Here is the authentic profile of the best group and internationally recognized gospel group in Ghana. They've been perfect with all the music videos and their inspiring gospel messages and tunes which suits every situations in life. They really motivate, encourage and boost the morals of Christians to stand firm in all their daily live activities.
Summary:::::::::::::::::::::::::::::::::::::::::::::::::::
NAME
Preachers
COUNTRY OF ORIGIN:
Ghana
SLOGAN:
Bibles Up!!!
MEMBERS:
*Eddy
*Obed Psych
*Dennis
*Emani Beats
GENRE:
Christian/Gospel, Rap
DISCOGRAPHY
2012: Mark 16:15
2010: Very Special (Mixtape)
MUSIC VIDEOS
2012: My Days ft. Isaac Ogoe
2012: Go Hard ft. Christ Image
2010: God Dey Bee 
NOMINATIONS/AWARDS--
Africa Gospel Music Awards 2012: Nominee for Afro Gospel Rap Solo/Group of the Year
Ghana Gospel Music Awards 2012: Nominee for Discovery of the Year (Voting in progress)
MUSIC CHARTS
Reverbnation National Gospel Charts (GH): #1
Xfm JC Cafe Top 20 Gospel Songs of the Year 2011: #1 Go Hard by Preachers
DaSouth Top 20 Videos for January, 2012: #18 Go Hard by Preachers
HomeBoyz Radio (Kenya),Tri Crew's top Gospel Songs: #2 Go Hard by Preachers
RECORD LABEL:
Unsigned
BIOGRAPHY
PREACHERS is a group of four talented young men who have a real zest for spreading the word of God through music. With this God-given ministry, they have brought a new dimension to the Gospel music industry in Ghana. Their musical genre which is predominantly Rap but occasionally blends with genres of R&B, Afro Pop, and Contemporary Gospel.
Preachers was formed in 2009. The quartet is made up of four young men as mentioned earlier (Eddy, Obed Psych, Dennis and Emani Beats). The name PREACHERS was derived from the Scripture Mark 16:15, also known as The Great Commission which says "Go ye into the world and PREACH the gospel to all creation..."
To date, they have released one mixtape (Very Special) and debuted a studio album entitled Mark 16:15. They have since been on the move, ministering in high schools, tertiary institutions, churches and other events all over the country. Preachers continued to work out the ministry through their "GO HARD" Campus Tour in 2012 consequently building a strong fan base of youth.
By God's divine favour, they began to enter into the limelight in 2011/2012. Climbing up charts and getting nominations. Their song "GO HARD" became the theme song for many international radio stations including GBS1 (UK), VOA (UK), Angels of Sweet Melodies (USA).
The video for GO HARD (Released Dec. 2011) found its way to Rapzilla and featured on many local and international entertainment sites.
Their slogan is "Bibles Up" because they stand for the truth - the Bible.
CONTACT INFO:
EMAIL:
Communication: [email protected]
Bookings: [email protected]
LINKS/SOCIAL FAN PAGES 
Website: www.preachersgh.com
Facebook: www.facebook.com/preachersgh
Reverbnation: www.reverbnation.com/preachers
MySpace: www.myspace.com/preachersgh
Twitter: www.twitter.com/preachersgh
Youtube: www.youtube.com/preachersgh
CELL:
+233 24 6634580