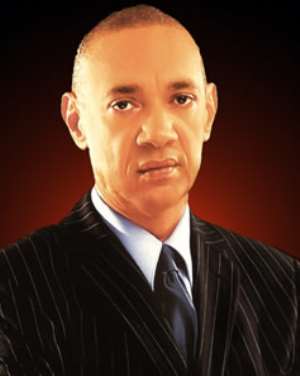 Ben Murray-Bruce chairman of the Silverbird Group

Nigerian media and entertainment conglomerate, The Silverbird Group, is to celebrate its 30th Anniversary on 6th November 2010 in an exclusive star studded event at the plush New Convention Centre, Eko Hotel and Suites in Victoria Island, Lagos.
Management has pulled all the stops to ensure that the event is worthy of 30 years of quality entertainment and tremendous success. The party is set to be the party of the year with an impressive and exclusive line up. Guests will be entertained by Party on the Moon, the well renowned band best known for its stunning performance at President Obama's inauguration celebration, alongside a thrilling host of top Nigerian Artistes.
The night of celebration will feature top Nigerian artistes such as Ras Kimono, D'Banj, 2face, King Sunny Ade, M.I, and Sharp Board amongst others. Nigeria's rich and famous are expected to grace the special occasion as top government functionaries, business and media personalities have all been invited.
The night of glamour and elegance is set to feature the President of the Federal Republic of Nigeria, His Excellency Goodluck Johnathan as the Special Guest of Honour. The Lagos State Governor, Babatunde Fashola will be its chief Host. The event will be transmitted live from 4pm on Silverbird TV across Africa and cinema outlets in Nigeria, Ghana and Kenya.
Ben Murray-Bruce chairman of the Silverbird Group has said that "the event will be an evening to remember as we chronicle hit songs in the last 30 years in Nigeria and on the International scene. There will be special tributes to our departed Nigerian Artists in the last 30 years, and also for international departed artists including Michael Jackson, James Brown and Luther Vandross."
Silverbird has always been at the forefront of the Nigerian entertainment scene and has recently spread its uncanny ability to produce quality entertainment across the African continent. In the early 80s, it promoted concerts which featured groups like Kool & the Gang, Whispers, Shalamar, Lakeside as well as Nigerian Artists such as Dizzy K, Bambelly amongst many others. The group is also credited as being behind the Fantasy Night Club which hosted the live talent hunt show THE GONG SHOW, which discovered Artists like Majek Fashek and Ras Kimono amongst many others. Silverbird also became a household name through pageants such as Most Beautiful Girl in Nigeria through which the first black Miss World was discovered.
In over three decades of providing wholesome family entertainment via Television , Radio, live shows, pageants, real-estate, cinema, lifestyle stores, entertainment centers and malls, The Silverbird group has grown to become one of the most influential and respected entertainment conglomerates on the African continent. Founded by Ben Murray in 1980 with a capital of N20, 000, it has today grown into an empire worth several billions in Naira. For Mr. Bruce, the experience has been 'fun and great' although his company was founded at time that 'did not appreciate the art.'
In Ghana, the group in partnership with Global Media Alliance is credited for establishing its first-ever Cineplex of five theaters fully equipped to international standards and with Dolby digital surround sound and contiguous media store in 2009. Also in 2009, Silverbird raised the bar by opening more chains of cinemas in Kenya, Port Harcourt: Showtime Mall and Abuja: In Abuja, the Silverbird Group boasts of the Silverbird Entertainment Centre (SEC), a state of the art cinema and shopping complex in the biggest shopping mall in West Africa, with 12 luxury cinemas and 8 executive V.I.P halls and world class shopping mall space.
With an extensive and impressive portfolio that few African Companies can boast of, The Silverbird Group has a lot to celebrate.