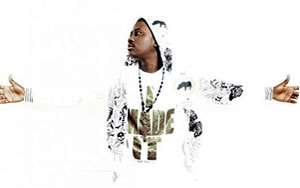 Nominations for the 2010 edition of the biggest entertainment event of the Ghanaian calendar, the prestigious Ghana Music Awards have just been opened by Charter House, the event. However, there have been a debate as to 'who wins what' come Saturday April 10 th at the conference Centre.
Though nomination is still on-going, Ewe rapper Ayigbe Edem and Sarkodie, a rapper who was recently signed on Akon's Konvict Music label are already being mentioned from all corners as two outstanding artistes who will slot out in the category 'Discovery of the Year' , a category Asem won last year. Watch Nyornuviade by Ayigbe Edem feat. Kwabena Kwabena /music/video/video-premiere/228-video-nyornuviade-by-edem-feat-kwabena-kwabena
As spelt out by the organizers in the 'discovery of the year' category. The award goes to the artiste who made most impact with his/her first commercial release (Single/Album) during the year under review. The winner of that award is adjudged by the Selection Committee, Planning Committee and the general public as the most promising and talented new artiste.
Both Sarkodie and Ayidge Edem have tasted mainstream success with their maiden album.
As the debate rages on and the tongues wagging in anticipation of the potential winner come awards day, Asem who won the accolade last year after feuding off challenge from fellow hip lifers R2Bees, Wanlov the Kubolor, Klana, Richie and Gospel songstress Gifty Osei feels the best person to succeed him is no other person but Ayigbe Edem.
But Richie disagrees, because to him Sarkodie should grab that award with so much ease. Asem told GhanaCelebrities.com that he contends the 2009 saw the number of talents cropping up and feels Ayigbe Edem has given the Ewe population something to cheer about. Watch Pigaro (Club version) by Asem /music/video/hiplife/447-video-pigaro-club-version-by-asem
'Honestly, this year, there've a lot of talents, like now am listening to Iwan, I think he is fantastic, am listening to Stoneboah, I think he's fantastic, I listen to Lil Shaker, I think he's fantastic too', he said.
'There are lots of talents around and I believe when its very competitive, then you know Ghana music is soaring, Eazzy baby, Eazzy is phenomenal, wherever you go they talk about Eazzy like crazy, OJ's music is nice, Macho Rapper, he is something else, he is different and his music is good'.
'I believe it's going to be competitive, if I had my way, all these artistes will be given some acknowledgement for their good works'. He ended.
Pushed to the wall, Asem mentioned Ayigbe Edem as one of the best MCs in the game, apparently for his knack for rap. He was impressed Edem took a risk by rapping in Ewe, a language only few people speak in Ghana.
'I think Ayigbe Edem has done well, over a number of years, Ewe rap has been on the down side as in Ghanaian music, all the dialects have had their fair share of exposure and the fact that he actually came from no where'.
'What Edem did was a risky thing; he had the guts to rap in Ewe, knowing that majority of Ghanaians don't speak Ewe and Edem is an MC, when I listen to his song, I don't speak Ewe but I call him for explanation, so I think Edem is fantastic and will win the award', he ended.
Richie, the brain behind Lynx Entertainment, also the current recording engineer of the year disagrees with Asem. Richie revealed to GhanaCelebrities.com in a separate chit chat that though 2009 saw the influx of new acts in the hip life game, Sarkodie stands out tall. Watch When I Get U by Richie feat. Asem /music/video/video-premiere/362-video-when-i-get-u-by-richie-feat-asem
'To be honest, I think it will go to Sarkodie, because among all the new artistes who came this year, Sarkodie has done the most and I think he deserves it'.