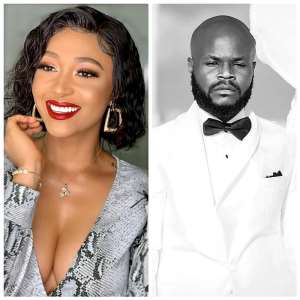 Popular Nollywood Actress, Rosaline Meurer has blasted Movie Producer Ideh Chukwuma Innocent popularly known as "Onesoul" for extorting and refusing to pay her after they concluded a film contract deal which she funded. In a post few hours ago, the nollywood actress had called "Onesoul" a scam, a hypocrite, a liar and a dream killer, who extorts others to chase after his dead dreams.
Speaking in deep regrets and pains this morning, she told our correspondents how she has kept on begging and asking friends of "Onesoul" to ask him to pay her for the movie she produced with him. According to her, the film contract deal between the both parties was signed in January and it only takes 60days before payments are made, but unfortunately, its september and she is yet to get anything from a movie which she spent so much on.
Actress Rosaline shared a screenshot WhatsApp conversation which she had with "OneSoul". The conversation clearly denotes the unwillingness of Onesoul to pay the Actress. With wot many would decribe as "posting", the Actress has continue to play a fool.
She has been convinced several times, but her expectations will always be thwarted. According to the conversation, Onesoul had in many circumstances required the account details of Actress Rosaline, promising that the money would be paid but till today, nothing has yet been paid.
All she is been told is that, his team will start sorting out payments internally from other accounts, claiming that the people he does business with are having a change of staff of persons who process papers and payments, blaming the entire his situation of on such an insincere claim.
Actress Rosaline noted that Onesoul has always taken advantage of young people, sweet talk them and also collect monies from them. She has however promised him in her post this morning, that if this was his style in the industry, then she will be the last person he would try such with.
She told us that the matter is presently well investigated using forensic measures to verify the reports which she has presented ensure that the issues are resolved.