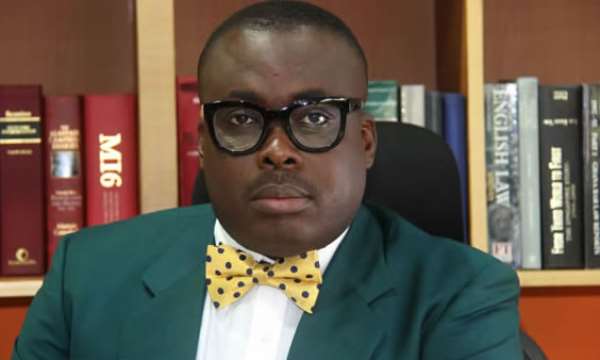 Dear Metro TV,
I don't feel sorry for that guy on your Good Evening Ghana show who's been roasted everywhere on social media right now. The show is now Bad Evening Ghana, thanks to him.
I will not mention his name because I will be adding him to big data - and I don't want to do that - but you know the clown in your studio that I am referring to.
It is even shocking that a reputable brand like yours could still maintain a host who can conjure stories about his own media colleagues on live radio only to eat humble pie a day later and confess on live radio that he is a conjurer of fictitious stories.
I guess your tv station is not concerned about reputation and its public image.
Fine. That's your own cup of tea. But am sure you remember the star FM confessional interviews?? In the age of the Inquisition, this blatantly lying host would have been stoned to perish for such a shameful confession of guilt on national radio.
At least, today he is receiving his much deserved cyber lynching for his lack of shame!
Any serious organization in any serious society will not allow such a pretending character who totally admitted to the public that he is a liar without integrity and even asked for forgiveness, to continue to host a show on national tv and throw about his flimflam.
The failure of your station to establish and follow higher standard practices and follow a corporate ethical compass, has enabled your openly corrupt and sisgraced host to turn round just a few months after his confession of guilt, and try to ride on non-existing moral high ground.
Your disgraced host couldn't make it through law school because he just didn't have enough brain cells to pass the exams, and yet shamelessly carries himself around as though he is a lawyer. That too, is corrupt behavior, which he must desist from engaging.
Also, if you have not noticed, your simple-minded host cannot ask simple questions on his show and wait for an intelligent answer before asking the next stupid question. He totally irritates many of your viewers who are fast tuning off.
Your "too known" host has turned your flagship show into pure trivia.
Of course, he has the right to his opinions and Rejoinders to every allegation made by every politician, yes. We all have freedom of expression, but we don't all host a tv show. That's why your host must demonstrate responsible behavior towards the viewers.
The overconfidence with which he displays his own ignorance and the non-existing moral high ground on which he tries to stand while at his trivia, does not impress some of us!
If your misguided host has a warped mind, and your station no moral compass, we the viewers have a sharp memory and a moral compass. Please don't take us for granted.
Now, let's say the 'Osu MP'(who did not mention any particular political party in her allegations) did not also provide evidence of her allegations of partisan food sharing, where is GEG's own fact-checking story that contradicts and makes the MP's allegations baseless and deserving of an editorial attack by your host?
Not that I am interested in defending the MP in question, but in the general principle surrounding the allegations.
For what is worth, who in Ghana, with an iota of neutrality and honestly, does not know that our political parties always share the 'national cake', first to their own foot soldiers, before everyone else?
Who does not know that political capital is at the back of the minds of the food distributors - whether from government operatives or opposition elements?
Distributing food to the masses is like organizing. To organize effectively, you have to rely on the ground structures. The commonest ground structures, besides the politicized local government structures, are the political party structures.
If your host on GEG does not know these things and thinks it is not possible that food is currently being distributed with partisan considerations, he's either too naive, too corrupt or too incompetent to host that tv show.
Please, you guys must think again in your next editorial - provided that your first obligation remains with the truth and your loyalty to the general public of Ghana!
To allow your arty-farty host to continue in this same current misguided direction will be to actively engage in pushing Ghanaians towards a Zombie Apocalypse!
Source: Sacut Amenga-Etego
(Journalist & Ghost writer)