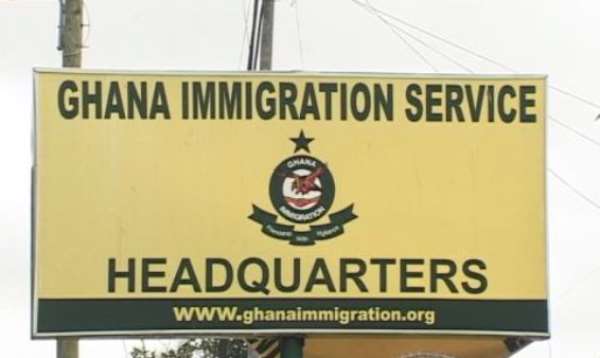 Officials of the Ghana Immigration Service (GIS) at the Kotoka International Airport have commenced data analysis of people who travelled into Ghana from countries which recorded more than 200 cases of the novel coronavirus.
The Service says the exercise will capture data from the day of the first reported case of coronavirus to the period Ghana closed its borders.
Ghana closed its borders to human traffic on Sunday, March 22 as part of measures to contain the further spread of the Coronavirus disease.
Speaking to Citi News, the Director of Public Affairs of the GIS, Superintendent Michael Amoako Atta said the data analysis will make contact tracing easier.
"With the current lockdown and the closure of the borders, we have some selected officers who are also working on this contact tracing so they are analyzing the data of passengers who arrived in the country within that period to see if we will be able to identify all the visiting non-Ghanaians and Ghanaians coming from countries where we have more than 200 cases of COVID-19. So currently, that is what personnel at the airport are doing. This data will feed into Ghana Health Service contact tracing scheme for them to be able to follow up on all arrivals and be able to test them," he indicated.
Meanwhile, the Immigration Service is appealing to property owners and landlords to provide useful information on Ghanaians and non-Ghanaians renting their properties who travelled into the country between 3rd and 23rd March, 2020.
"This is to enable the GIS to effectively and efficiently identify such individuals through contact tracing for the Ghana Health Service (GHS) to assess and manage them. The GIS can be reached through phone numbers: 0291502110, 0291502169, 0291502257 and 0291502253," the GIS said in a statement.
The Service, however, warned that property owners and landlords who fail to assist in this regard and are found out will be severely sanctioned.
Background
President Nana Addo Dankwa Akufo-Addo had earlier directed the mandatory tracing and testing for coronavirus, of all persons who arrived in the country from March 3, 2020.
This is part of enhanced measures to track the real number of persons who have contracted the infection in a bid to prevent further spread.
Speaking to Citi News, the Minister for Information, Kojo Oppong Nkrumah explained that the Immigration Service and Communications Ministry were leading the charge in carrying out the President's directive.
"…Initially, we were looking to start around the 15th [March] but the President has asked us to go back as far as the 3rd [of March]," he said.
He explained that the Immigration Service has in its database, information about persons who entered the country within the period in question.
---citinewsroom