Wealthy US poor on infant survival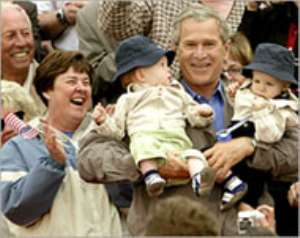 America may be the world's superpower, but its survival rate for newborn babies ranks near the bottom among developed nations.
Among 33 industrialised nations examined in a new study, the United States tied with Hungary, Malta, Poland and Slovakia with a death rate of nearly five per 1,000 babies.
Only Latvia had higher mortality figures, with six per 1,000, according to the report by the US-based Save the Children non-governmental organisation.
Mary Beth Powers, a reproductive health adviser for Save the Children, said: "We are the wealthiest country in the world, but there are still pockets of our population who are not getting the healthcare they need."
Rankings were compiled based on health data from countries and agencies worldwide.
Black women
Researchers have noted that the United States is more racially diverse and has a greater degree of economic disparity than many other developed countries.
They said providing culturally appropriate healthcare was thus more challenging.
The report, which was released on Monday, also said a lack of national health insurance and short maternity leaves probably contributed to the poor US rankings.
Other possible factors in the United States include teen pregnancies and obesity rates, which both disproportionately affect African-American women and also increase risk for premature births and low birth weights.
In black households, there are nine deaths per 1,000 live births, closer to rates in developing nations than to those in the industrialised world.
One US paediatrician, Dr Mark Schuster, said: "Every time I see these kinds of statistics, I'm always amazed to see where the United States is because we are a country that prides itself on having such advanced medical care and developing new technology ... and new approaches to treating illness.
"But at the same time, not everybody has access to those new technologies."
Schuster is Rand Co researcher and paediatrician with the University of California, Los Angeles.
Japan does best
In the analysis of global infant mortality, Japan had the lowest newborn death rate, 1.8 per 1,000 and four countries tied for second place with two per 1,000 - the Czech Republic, Finland, Iceland and Norway.
Still, it is the impoverished nations that feel the full brunt of infant mortality, since they account for 99% of the four million annual deaths of babies in their first month.
Only about 16,000 of those are in the United States, according to Save the Children.
The highest rates globally were in Africa and South Asia.
With a newborn death rate of 65 out of 1,000 live births, Liberia ranked the worst.
Premature births
In the United States, about half a million babies are born prematurely each year, data show.
African-American babies are twice as likely as white infants to be premature, to have a low birth weight, and to die at birth, according to Save the Children.
The lack of national health insurance and short maternity leaves in the US can lead to poor health care before and during pregnancy.
These factors increase risks for premature births and low birth weight, which are the leading causes of newborn death in industrialised countries.
Infections are the main culprit in developing nations, the report said.
In past reports by Save the Children, US mothers' well-being has consistently ranked far ahead of those in developing countries but poorly among industrialised nations.
This year, the United States tied for last place with the United Kingdom on indicators including mortality risks and contraception use.
Lacking primary healthcare
While the gaps for infants and mothers contrast sharply with the nation's image as a world leader, Kenneth Thorpe, a health policy expert at Emory University, said the numbers were not surprising.
"Our healthcare system focuses on providing hi-tech services for complicated cases. We do this very well.
"What we do not do is provide basic primary and preventive healthcare services. We do not pay for these services, and do not have a delivery system that is designed to provide either primary prevention, or adequately treat patients with chronic diseases."