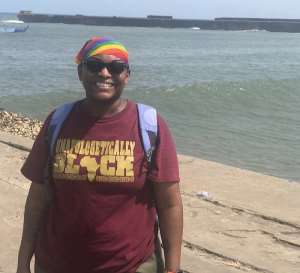 LaSonya at the beach of Jamestown. The pier in the back is the point of no return for the Africans of the small fishing town.
As I meet various Black Americans living or visiting Ghana, I will ask each guest 4 questions regarding their stay in Ghana. Each question is geared to help our international and domestic audience create an experience in Ghana that will be fullfiling and rewarding for everyone involved. We believe this series will help improve Ghana / Black American relations and continue to allow Ghana to be a lighthouse for members of the Diaspora worldwide.
Today's spotlight is on LaSonya Burrell of Detroit, MI. LaSonya shared that ever since she was a little girl she always wanted to visit Africa. When she heard of the Year of Return and the slave dungeons, she knew Ghana is "where (she) HAD to go."
Most Pleasant Surprise
Anytime I spoke to people about visiting Africa, they always told me "They don't like Us over there". It warmed my soul when I was greated by everyone I encountered with "Welcome Home Sister"
Biggest Disappointment
The biggest disappointment for me was not spending an entire day in Jamestown. We only spent a half of day
One Positive Tip
The tips I would offer is wear your bug spray & drink plenty of water
One Tip of Caution The only thing I would caution a person visiting Ghana is to pay attention to your surroundings and have an open mind.
Have you or someone you know visited Ghana, and would like to be apart of our on going series "Beyond the Return, Black Americans in Ghana" ? Answer the four questions above and send a high-quality photo of you In Ghana (preferably horizontal. (Only you in the photo, no kids, no pets, no spouse) to my Instagram page www.instagram.com/Rashad_McCrorey and I just may include you next article. We may not be able to use every submission or post your article in a timely manner but we will create as many articles as we can and post them as often as we can