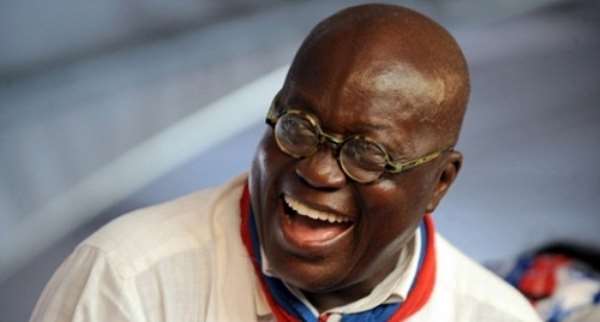 Happy Akufo Addo, photo credit: Media Ghana
In any real or true government based on Democracy, citizens don't live in fear but the story is different in Ghana. I will say it loud and clear that thousands of Ghanaians live in fear because of the tyrant in disguise Nana Akufo Addo's terror government.
Yesterday, one of the headlines which appeared on ModernGhana news was: Mahama Has No Policy – Akufo-Addo Mocks.
According to the current Ghanaian leader, John Mahama is staging a comeback on the ticket of the opposition National Democratic Congress, after being defeated in 2016, only to criticize his (Akufo-Addo) good policies and close to a year, Mr. Mahama has still not named his running mate.
In fact, this statement is enough to tell Ghanaians that Akufo Addo actually doesn't pay attention to know how the majority Ghanaian population feels about his leadership, the fact that he has some NPP supporters or enemies of John Mahama, cheering and praising his nepotism, tribalism and dictatorship-combined democratic style of government.
A good leader creates a pleasant friendly environment in which the happy citizens have nothing to worry or fear about, yet so many Ghanaians live in fear because of his iron fist on decisions and a few horrible past events that have taken place under his leadership.
Have you noticed how the silence of fear has fallen on Ghana after a series of kidnappings and assassinations, including the journalist Ahmed Hussein-Suale in the country? Treating citizens fairly, respectfully and adopting a transparent attitude, always gain the confidence of the people.
However, Akufo Addo, many are not only scared of you but have also lost confidence in you. You have refused to pay attention to this with the false pretense that everything is going well under your administration but that's not true because you lacked positivity, passion, loyalty, breadth of mind and confidence.
Your burning ambition to win the 2020 elections have blocked your vision to see clearly some of your bad policies you claim Mahama is criticizing. Was printing high currency notes into the market of a troubled economy a good policy?
You did that because you need money desperately for your campaign since the collapsed banking institutions have taken a drastic toll on Ghana's economy.
I know that many intelligent Ghanaians and journalists know the secret behind the quick decision of the Bank of Ghana coming out with such large currencies close to the time of elections but everyone is afraid to talk or write about that, are you happy about that Akufo Addo?
One of the deleted abusive comments on one of my articles reads: why I haven't written anything about Mahama's involvement in the Airbus corruption scandal?
I want to make it clear To Whom It May Concern that firstly, Mahama has already been declared corrupt and secondly, he is not the current President of Ghana, therefore, I have nothing to write about him.
Instead, my are articles are based on the current president, Nana Akufo Addo, who has cunningly brainwashed Ghanaians that he is a messiah, while he is equally corrupt like Mahama.
Which Ghanaian politician has been declared corrupt, either by the court or the Special Prosecutor and gone to jail in the country? It has never happened and it will never happen because both the judiciary system and the Special Prosecutor, Martin Amidu, are corrupt beyond remedy.
If Akufo Addo truly cares about the poor suffering Ghanaians, he should remember that he became president because of their votes; therefore, the need to listen to people is necessary.
At the moment, Akufo Addo has placed many parents in an awkward situation, after the government's refusal to go to China to bring the Ghanaian students facing the threat of coronavirus in the country.
These should have been the most pressing issues every good leader must take into consideration to find solutions, instead, you are making fun of someone who hasn't named his running mate in a presidential election. How serious are you at all as a leader Akufo Addo?
It was because of the disastrous impact of corruption on Ghana's economy, this writer, the former taxi and tro-tro driver in Ghana, left the country over three decades ago, after living in Nigeria, the Gambia, Republic of Guinea, Sierra Leone, and Ivory Coast, surprisingly, corruption has widened in all the sectors of Ghana's economy today.
After working hard in Europe, I bought a plot in Ghana and invested 10,000 Euros I borrowed from the Belfius Bank in Belgium. I lost the entire investment and the plot because the local chiefs have taken the weak and corrupt judiciary system in Ghana, which doesn't jail elites, as an advantage to sell the same plots to Ghanaians living in Europe.
Till now, many Ghanaians living in Europe are falling victims to land frauds in Ghana, yet the Ghanaian government often encourages Ghanaians in the Diaspora to come home and help build Ghana. God will punish severely any politician who steals a penny that belongs to the state.

The Special Prosecutor, Martin Amidu, another corrupt person appointed by Akufo Addo to cover up corruption in his government
Even though the Attorney General and the former Minister of Justice, Gloria Akuffo, revealed that 21 people were on trial in various corruption cases involving more than $ 100 million, nobody has been found guilty to pay for his or her crime in Ghana. Yet, ignorant Ghanaians want me to worship Akufo Addo because they believe he is pure white as snow. I don't worship politicians, I worship God.
Who am I to give you a piece of advice, knowing you to be the stubbornest leader in Ghana's political history? Sometimes I do wonder why all short people are very difficult, I can't explain if it's their natural character or God created them like that.
However, what I need to tell you is not to be worried about the current events that are taking place or have already happened in Ghana, instead, be worried about what you don't know coming, since December 2020, is still far.
Stop the boasting, pray for God to give you daily peace and protection whenever you retire to bed if you truly believe in a Cathedral because the world is becoming extremely dangerous, your own relative or a close person can even kill you.