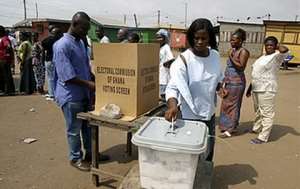 The Citizenry of Ghana has been called upon to exercise their individual rights to accept or reject the entrenched constitutional clout in order to fine-tune the local governance of our country.
In other words, the referendum seeks solely to empower the People of Ghana but not parties or groups like the collective organizations, e.g. chiefs.
Other organizations like the NDC etc. should note that they have not been called upon to make such decisions.
Amending the entrenched Art. 55 (3) is the sole prerogative of individual Ghanaian citizens and not political parties or individual organizations. That is why I find it unacceptable and nonsensical for NDC and other groups to attempt to dissuade their members to vote "No".
It appears that some people of Ghana get up to make statements without knowing what they are talking about. NDC e.g. has no right whatsoever to take the individual God-given right of a Ghanaian from him by trying to influence their right to take part in a referendum.
Now, the Oxford Dictionary defines "Referendum" as:
"A general vote by the Electorate on a single political question which has been referred to them for a direct decision."
It is clear that the people have been called upon to express their individual preferences.
I repeat: Any attempt by organizations, parties, chiefs to influence the will of the people in order to disrupt this empowerment will be seen by others, e.g. Ashantis, as undue interference with the possible upshot of civil-war.
This view must be taken as a serious warning to all those parties in Ghana.
The empowerment of our people to make decisions affecting their own local needs can only be achieved by eliminating the much disliked and entrenched Art 55 (3) in the 1992 constitution.
It is almost 60 years since our Independence and we are still standing still, because the 1992 constitution creates the opportunity for corruption.
It has created a situation where people of parties which afford them the opportunity to cheat, while patriotism does not exist for them. Nepotism is high on their agenda and this leads to selfishness and the country stands still !
It is not surprising therefore to see most who reject the referendum are Ewes, who are notorious for coups, the Northerners, who use religion to demand government subsidies for their personal religious journeys, the Fantis, who so far have contributed nothing for the advancement of our Nation.
The escalating poverty of the Nation means nothing for these groups who are attempting to steal the individual right of the people from them, while they hide under their criminal parties to deprive the individual citizenry from making individual decisions affecting their lives.
A "No"-vote will signal disaster for the Nation because Ashanti will resist. It is a warning to be taken seriously.