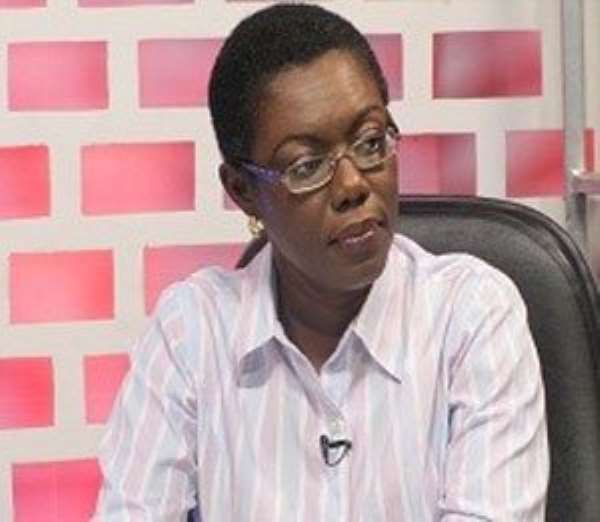 Ursula Owusu Ekuful
*Dear Hon. Ursula Owusu Ekuful*
I bring you warm greetings from the Apam Ward of the Gomoa West Constituency in the Central Region, where I sit in awe over what is reported to be your response to Hon. Ato Forson's harmless letter which simply sought to point out to you, how illegal the arbitrary directives you gave out to the telecommunications companies following the upward review of the CST were, and further sought to impress upon you to withdraw same. By the way, it is my hope that you are doing well, even in the face of the resounding across the board condemnation from ordinary Ghanaians on "your" rather disappointing upward review of the CST.
To be honest, my first reading of your response to Hon. Ato Forson left me extremely shocked. For a while, I convinced myself that the letter was fake, and in furtherance of this belief, got involved in some petty arguments over its authenticity with some colleagues of mine. But alas! my shock gradually turned into a huge disappointment as I had confirmation from a very reliable source that indeed, the letter came from you and it's actually your response to Hon. Ato Forson's letter dated Monday, October 14, 2019. Knowing your pedigree in law, I had hoped that your response would be based on sound counter arguments backed by relevant provisions from relevant sources. Unfortunately, you rather decided to choose the easiest way out by going caustic over nothing.
Madam, as one of the few women to have had a successful political career in this hostile terrain of ours, a lot is expected of you, both in the delivery of your mandate and the kind of influence you bring to bear (directly or indirectly) on people, especially young ladies who are trying to build a career in politics. You have a duty to help to build, not only a good image for the female politician but also a solid foundation and a positive example to the many up and coming politicians. You will agree with me that aggressive vituperation must have no place in the dealings of a leader, especially in matters that require consensus building. I would rather choose being assertive over being an abusive. In fact, Bryan Cranston (an American actor, producer, writer and director) argued that *being assertive is the real trait of boldness, strength and confidence*. Abusive language, aggression and being unnecessarily evasive certainly does not demonstrate toughness and shrewdness. Your response, in all honesty, lacks the boldness, strength and confidence I expect from your calibre of woman.
As an honorable MP who has been so decorated by the State with the enviable position of a Minister of the State, a lot of young ladies across the political divide like myself, look up to you as a mother, a leader and most importantly a role model. We look up to you for positive examples that will help shape our political lives and fortunes. As a woman yourself, it is my considered opinion that you live above the age-old negative stereotyping of women and avoid comments that seek to give impetus to such wayward categorizations. The caustic nature of words used in your letter and your allusion to not taking advice from a brothel are not just unfortunate but an affront to the dignity we continue to fight for as female politicians in this country. What kind of addition do you make to the image of female politicians in this country with this your rather caustic response? And what kind of example are you providing to those young ladies who look up to you?
Michelle Obama once admonished politicians, females especially to *_be the flame of fate and that torch of truth to guide our young people towards a better future for themselves and for their country_*. In all humility I ask you Hon. Ursula Owusu Ekuful, *What example are you leaving for the young, up and coming female politicians in this country, and exactly what does this response add to the dignity of the Ghanaian female politician?*
In drawing the curtains down on this, I respectfully ask you *_"does your strength lie in a caustic tongue?"_*
A word to the wise....
Yours sincerely
Abena of Gomoa