Dr Akoto Osei And Joseph The Dreamer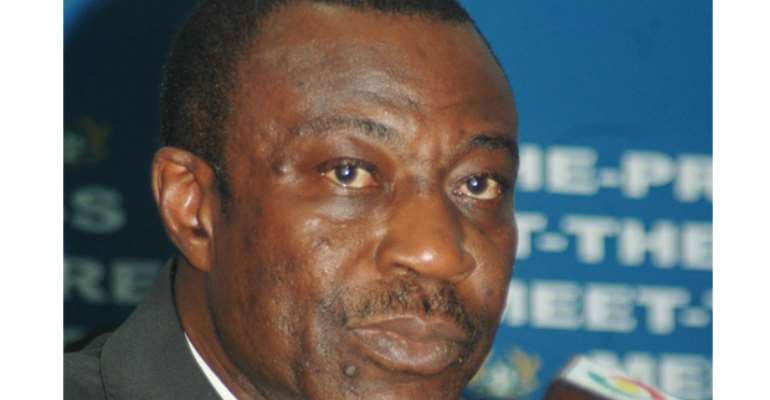 The gospel truth is that but for Joseph, the dreamer, the nation called Egypt would have been history. In fact, the twelve tribes of Israel would not have been in existence. The famine that engulfed the territory would have wipe out the whole population and their livestock. Credit too must go to the ex-prisoner who introduced Joseph to Pharaoh but sadly preacher men seldom mention the guy in their preaching sessions.
Those of us, who are old enough to witness the famine that hit Ghana from 1983 to 1986, saw how famine can devastate a nation. Another gospel truth is that but for Dr. Akoto Osei, the Minister of Food and Agriculture, the nation would have been brought to her knees due to the rapid fall of agriculture during the NDC era. Ex-President Kufuor left behind a buoyant agriculture sector but sadly, the Mills/Mahama led administration preferred to embark on projects that will give them political advantage over their opponents rather than working to enhance agriculture, forgetting that a soldier marches on his belly.
President Nana Akufo Addo might have consulted broadly before appointing the gentleman as the Minister of Food Agriculture. Launching the Planting for Food and Jobs, Dr. Akoto Osei referred to the Operation Feed Yourself (OFY) introduced by the late murdered General Kutu Acheampong which led to bumper harvest of food. When General Acheampong seized power he made it very clear to the whole world that his government was not going to pay any debt owed by the country. He went on to admonish Ghanaians to "grow what we eat and eat what we grow" He also told us that 'he who is satisfied needs no milk' (Obi a wadidi amee ehia milk). We bought into the idea because after all we had no option since the countries that we owed were not prepared to give us any loan again
Instead of trooping to the big cities to engage in menial jobs, the youth in particular preferred to stay back in their various villages to engage in farming. When the Operation Feed Yourself became successful, General Acheampong again introduced Backyard Gardening which also caught on very well with those living in the urban areas. Bank managers, engineers, teachers, accountants, businessmen and women and a cross section of the people got involved. People started cultivating, pepper, garden eggs, onions, plantain, tomatoes etc. at their back yards. In those days it was fashionable to change over your clothes after work and wear your working gear to engage in gardening at your back yard.
Fishermen along our coastal areas also got involve. In the early seventies because premix fuel was cheap and outboard motors were affordable, our fisher folks seized the opportunity to join the Operation Feed Yourself. Fish, particularly herrings were caught in abundance to the extent that fishermen had to sail back to the deep waters to jettison their catches because we had no cold stores to keep them. That was the mistake we did. Unlike that advice given to Pharaoh to store food during the bumper harvest, we chose to ignore this vital aspect and just ate what we caught and threw away what we could not eat. In no time the fish stock in our waters depleted and we went back to square one. Since then things have never been the same again as far as fishing in concerned.
Before the NDC left office, Ghana was importing fresh pepper, cocoyam leafs, cabbages among others. from our neigbouring countries like Ivory Coast and Burkina Faso. That is why I lauded the current government for introducing the One District One Warehouse. Even the ant sees the wisdom of saving food for the rainy day. For the first time in the history of Ghana, the country is exporting plantain and other crops to our neighbours. When the president launched the Cashew Marketing Board at Wenchi last year, the NDC apparatchiks misunderstood the idea and said the president was wasting our time. As at the time of writing this piece hundreds of thousands of high bride cashew seedlings are being distributed to famers free of charge, nationwide. In a matter of three years when the cashew starts to yield fruits, the Cashew Marketing Board will buy the nuts instead of the farmers selling their hard earned products to shylock businessmen who buy them at the farm gates at giveaway prices. It takes a man of foresight to think the way the president and his team are doing.
Since the introduction of the "Planting for Food and Jobs," the country has never experienced any shortage of food items at the markets. In fact, even poultry farmers who used to import maize to feed their chickens do not import them anymore because they are in abundance in the country and farmers are finding it difficult to get buyers. Go to the Techiman Market in the Bono East Region and see the number of trucks from Burkina Faso, Mali and Niger loading bags of maize to their respective countries. Fertilizers which used to be a huge burden on maize farmers are now being highly subsidized. Just visit any agro chemical shop and you can get treated maize seeds at subsidized prices.
Anytime I hear desperate candidate Mahama trying to mislead cocoa farmers, I wonder whether he was living in Mars when ex-President Kufuor introduced the Cocoa Mass Spraying Programme which led to the country hitting the one million ton mark. When Kufuor introduced the programme, nobody read politics into it since all cocoa farmers, irrespective of one's political leaning gained from the programme. The NDC under John Mahama collapsed the programme which led to heavy reduction of the tonnage we produce every year. And this is the same man who is staging a comeback to destroy the cocoa industry again.
The first time I met Dr. Akoto Osei, I saw in him a man who has a mission to accomplish and leave a mark for generations yet unborn. Today, Ghanaians who had the opportunity to live under the General Acheampong regime mention his name with nostalgia as far as agriculture is concerned. Similarly cocoa farmers miss ex-President Kufuor a lot because of the way he treated them. Ghanaians should pray for Dr. Akoto Osei for God to give him a longer life so that he could do his best for the nation. Dr. Akoto Osei should open his eyes wide because there are saboteurs out there to destroy his programme. Can you imagine a Ghanaian smuggling subsidized fertilizers to sell in Burkina Faso, thereby denying his own fellow citizens access to the product? Such persons should not be treated with kid-gloves when they are arrested. Their pictures should be flashed on the front pages of our newspapers, name and shame them. Ghanaians too should be patriotic enough to report such persons to the security agencies for quick action to be taken and the security officers should also avoid taking bribes to allow such criminals to undo what the Minister and his team are doing. Excuse me while I visit the kitchen to eat my fufu and grasscutter meat. Life is fine, very fine. To the NDC nation wreckers who continue to shout from the rooftop that life is hard, they should relocate to Aleppo in Syria or Kabul in Afghanistan.
Eric Bawah