The Underground Man Part 26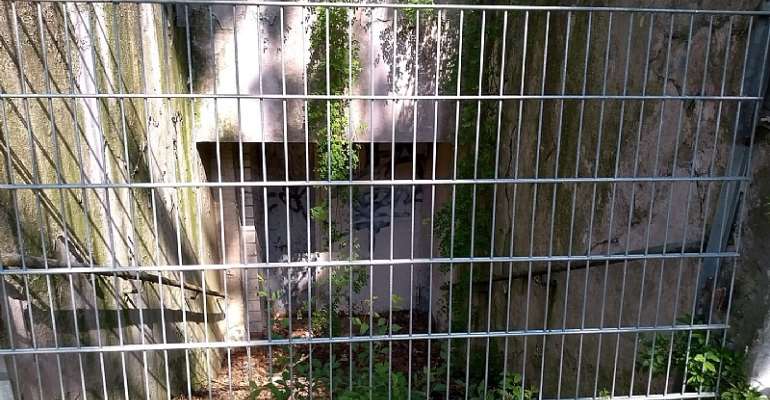 "You have looked for me in all these years, haven`t you?" Anna looked around. No one to be seen.
"Here am I."
Anna turned round and round. no one to be seen.
"I am always here when you want to talk to me."
Anna stood still, string out her mind. She closed her eyes, opened it again.
"I have never been away. I am always at your service."
Anna took her head into her hands. Her eyes did not see anyone around her. She moved from left to right to look behind bushes. No one was there.
"Come to me with all your questions."
Anna tried hard to bring her nerves down. Her heart was beating fast.
"I will comfort you. I will answer you. I will make you understand. I will never leave you alone whenever you call me."
Anna stood before the bunker in a pitch dark night, no man to be seen walking in the streets. It was two hours after midnight. The only sign of life was the change from green to yellow and red of the traffic light. The school in front of her painted a bazar shadow on the pavement lighted by the glimmering moon light. It was fresh, a bit chilly, but not too much. Anna was wearing t-shirt and jeans, all light clothes, with silver slippers on her feet.
"What can I ask of you?" asked Anna looking and looking but not seeing, not finding.
"Anything you want", was Anna hearing.
"Anything…that is everything."
"Everything that is anything and anything that is everything. I know it all."
"But…how can you know it all? I cannot see you!"
Anna was hearing: "When someone wants to know and call on me, I will answer!"
"But I cannot see you", insisted Anna to know. How can you answer me?"
"We are talking, right?" was Anna hearing.
"Am I mad?" asked Anna.
"You are human and I am the answer. So call on me and I will answer you." The voice speaking to her was tender, deep and comforting.
"I talk to you and you respond. Yes, that is true…but how can I trust you when I cannot see you? Am I going crazy?" wanted Anna to understand looking around searching everywhere. She did not leave a single bush or stone untouched.
"I have always been by your side."
Anna stood before the iron fence blocking the entrance to the bunker. She was feeling the cold of the metal through her hands floating into her heart. It seemed that through the closed door sealing the bunker something unknown would touch her from head to toe. She felt very clearly, an invisible force had reached out to her; a mystery had her whole being in its hands. The cold of the night caught up with her. Goose bumps appeared all over her body. Anna started to shiver. Out from nowhere, from one second to the next was Anna standing in the middle of heavy fog. The wet fog covered her like a coat in winter time. She stretched out her arms feeling her hands were out of reach of the fog in clear and warm air. A man`s face appeared before her, than the rest of him. Anna stretched out both arms to grab the man and hold tied to him. Her arms did not feel any solid body.
"Can you see me? Can you hear me?"
Anna pulled all her courage and strength together letting him know: "I hear you, I see you…but…but I cannot touch you!"
"To hear and believe is all that matters. To feel me is for the weak hearted only."
"I am confused."
"I know you as I have called you always by your name…Anna."
"How do you know me?" was Anna feeling how the fog slowly faded away into the unknown.
"I have known you even before you were born and I know all of you that are here!" disappeared the figure into the darkness.
Anna heard the banging of a heavy metal door. Instinctively looked Anna over her right shoulder convinced to have seen someone closing the rusty door of the bunker. A truck passed by. She looked around. The streets were empty again.
"Oh no, the only country in this world ever refusing me a visa was India. They said they can help themselves and support their own people well. An UK charity had wanted me to be part of their team of volunteers there, but then the denial came and I was very much surprised. In any case I know donating to India is not needed for me and as they can live without me, no problem, I also can make it in life without them. The world is full of wonderful countries I am going to visit", referred Anna to a recent decision that had made her come to London in the end. She had put all her hopes and energy into that project in India, all her mind, but life pushed her to sit on an old, grey couch in the office of the Simon Community in Camden Town, a poor neighborhood close to the City of London. In the streets she met people that seemed to have lost hope, disconnected from the rest of society.
The Simon Community was housed in a simple Town House with three floors. The ground floor was the meeting point for volunteers and the men to be taken care of. The center of attraction in the living room next to the entrance was a hugh TV flat screen. What used to be a light brown carpet fluffy wool woven, had been trampled down by thousands of feet, spilled over by alcohol and food. From the corner leading to the kitchen in the back of the house smell of human pee was clearly in any visitor's nose. In the tiny little kitchen each night sandwiches got prepared for the reach out walks the following day early in the mornings. A small team would go out behind shiny hotels and find their clientele coming out from dark corners.
"The book I am writing on is against the Green party", laughed Anna enjoying her tea with milk while the helper crew had ended their meeting to discuss the work for the flowing day and share each other´s story of the day. Most times of the day everyone would work on his own therefore the evenings were very much needed for all of them to recover emotionally. The office door was locked for security reason. From outside gusty human pee and a mix of alcohol was constantly in the air. Only in the small office the smell was less intense. Young ambitious and enthusiastic men and women from mostly England had come to the place to find meaning and direction in their and of their lives. To help others was only a catalyst to establish themselves in life. No one of the volunteers had evener undergone any professional training to be qualified for the job performed.
"But they do a good job and we must surely protect our environment. Our planet must be protected from us humans misusing it", challenged Eva her German counterpart. Eva was from Norway, had red hair, natural one, and her own style of gloss over her finger nails. Tiny little brown spots covered her face. "I see how ice is melting always in our region…that is not normal."
…to be continued