Karma Catches Up With Luis Suarez!.... He Misses A Penalty Kick In The Copa America!
....sweet Revenge For Ghana Or What?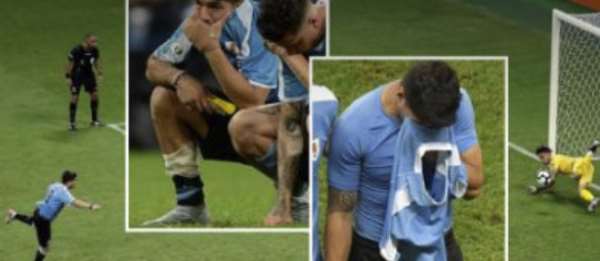 If you are a Ghanaian football fan and in your teens or above that age group, you must surely remember the ignoble name, Luis Suarez?
Yes, he was the guy whom Ghanaian football fans murdered millions times over– in their fantasies of course! – when he ignominiously prevented Ghana from reaching the semi-final stage of the 2010 Football World Cup.
In case you do not have the best of memories, this is what happened:
On 2 July 2010, Ghana met Uruguay in the quarter-finals of the world Cup staged for the first time on African soil – South Africa. In reaching the quarter-finals, Ghana had lost only by the narrowest of margins to ex-World Champions, Germany – 0-1. And Ghana had then beaten the USA by two goals to one. If Ghana won the match against its next opponent, Uruguay, she would get a place in the semi-finals. Semi-finals of the World Cup? It sounded like a dream. But we were there. Come on, then, Uruguay.
The match took place on Friday, 2 July. Its course is so painful for me to recount that I shall leave it to an unbiased outsider to do it for me. His name is Matthew Kaminski and he wrote this piece in the Wall Street Journal, an American publication. (Don't forget he was a neutral observer!)
QUOTE: In a bar full of Africans, my BlackBerry screen lit up Friday night with messages from ­appalled American friends. Oceans away. What a dirty, rotten, cheating play. Seconds from the end of a stalled 1-1 game, Uruguay's Luis Suarez threw up his hands to stop Ghana's guaranteed game-winner. No goal, a red card for Mr. Suarez; penalty for Ghana.
"For the first time, an African team was about to reach the semifinals of the World Cup. Then it wasn't. An exhausted Asamoah Gyan's shot — improbably, unjustly — ricocheted off the crossbar. Mr. Suarez, who sulked off the field with feigned upset after the red, was caught on camera sneaking a peek at Ghana's miss, then joyfully bounding off into the locker room. Uruguay got the mental edge in the ensuing penalty shoot-out, and it went through, in Ghana's place, to face Holland. A crime perpetrated in plain sight called for stiff drinks and shared bereavement.
"If a Ghanaian mob burned down the Uruguayan Embassy in Accra, who could blame them?Yet television scenes from Ghana showed a calm, proud nation swallow hard and applaud their Black Stars.
(Mr Kaminski is a member of the World Street Journal staff.) UNQUOTE
Suarez inflicted untold and excruciating pain upon the whole of the African continent when he used his hands to push back a ball that was inevitably destined to enter the Uruguayan goal and -- at the last minute of extra time at that! What drama!
Red card, penalty – was that what Africa wanted? No! Justice demanded that the goal be awarded so that Ghana would be the winner – the first African country ever to cross the semi-final barrier! Of course, it was nothing strange that Ghana missed the ensuing penalty kick. At the time he took it, Asamoah Gyan was no doubt still debating with himself over whether to take the penalty or walk off the field with his fellow Black Star players, who were all furious at the injustice of the whole thing.
Uruguay cheated. Our missed penalty, heartbreaking as it was, was nothing but a red herring. Uruguay had cheated – and been allowed to benefit from cheating. Every African cursed Uruguay. But no-one imagined that the curses would have any effect on Uruguay's future as a footballing nation. Or on Suarez as a major star with loads of money in his pocket.
"The hand of God belonged to me!" Suarez had boasted afterwards about his ignominious act of cheating. He was alluding to the "hand of God" with which Argentina's Diego Maradona defeated England in the 1986 World Cup. 'Mine is the real hand of God,' Suarez repeated. 'I made the best save of the tournament.... When they missed the penalty, I thought "It is a miracle and we are alive in the tournament.
But hahahaha! "Miracle"? "Hand of God?" Okay, Suarez: wait and see!
Suarez obviously does not know about two concepts in philosophy: one from Greece called NEMESIS, and the other from India called KARMA. Nemesis catches people unawares when they have done wicked things and think they have got away with it. And Karma relates to cause and effect: you do something wicked, and well, something wicked will be done to you!
Suarez and Uruguay laughed over the misery they caused Ghanaon that day nine years ago. Well, in 2019, it is Uruguay and Suarez who have been made to experience the bitter taste of defeat. True, THEIR defeat, unlike Ghana's, is not the result of an injustice. Nevertheless, it has been painful to both Uruguay and Suarez – a pain which, if one may quite another foreign philosophical concept, falls under the category of as CHADENFREUDE – joy feltat the pain of others.
What is it that Uruguay and Suarez have just suffered which should make every Ghanaian yell in glee: "Ahaaa! Now you know what it's like!"?
QUOTE: Suarez sobs as penalty fail seals Uruguay's fateJune 29, 2019
Luis Suarez missed his spot-kick as Uruguay suffered a 5-4 penalty shootout defeat to Peru, in the Copa America quarter-finals, after a 0-0 draw in Salvador. Uruguay also had a goal disallowed in the first half [and] twice fell foul of tight offside decisions…
Both Cavani and Suarez put the ball in the net, only to be denied by the flag and subsequent VAR (video assistant referee) checks. Uruguay's poor fortune continued in the shootout. [Peru's] Pedro Gallese made a fantastic save from Suarez's opening penalty, With Edison Flores later stepping up to clinch Peru's place in the last four. "UNQUOTE.
Earlier, Suárez, who had missed [Uruguay's] first game through injury, lost his temper and threw one of his boots on to the pitch after he was told he would not play.
On the failure of Suarez to score in the penalty shootout, one of the best headlines was: "Distraught Suarez left in floods of tears after missing penalty in Uruguay's Copa America shootout loss to Peru"
The body of the story explained that SUAREZ was left in floods of tears after missing a penalty which sent Uruguay crashing out of the Copa America quarter-finals. Uruguay were beaten 5-4 by Peru in a shootout — after Suarez [had had a] goal ruled out for offside.
In a tongue in cheek strap headline, the London newspaper, THE SUN played on the words, "Suarez" and "Luis" and teased Suarez as follows: "­­­URA SORE LU-SER!" (You are a sore loser.)\
Hahahahahaha! Very good to have the last laugh on Suarez. At long last.