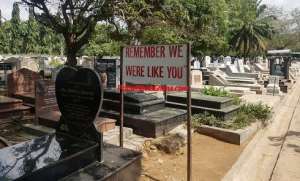 "Oh this one, it won't last up to one year the corpse will be exhumed for a new person to be buried", these were the words I received in reply from a cemetery attendant upon my quest to know what happens to graves that had no tombs raised over them.
The preceding happened when I tailed the remains of my grandfather to a cemetery in the Ashanti regional capital for his final burial; I bowed my head in sadness not because I had no knowledge of this practice in Ghanaian cemeteries but the fact that no efforts are being put in place to curtail this "menace".
My entrance to the cemetery revealed so many frailties, graves have been sighted so close to the entrance, funeral revelers found it difficult moving to the tombs of loved ones because graves have been dug inches close to each other.
Another appalling sight, one I believe will make the dead grieve in their tombs was people walking freely over graves, I won't be happy either seeing the tomb of my loved one turned into a pavement walkway; but the sad reality is, this is happening in Ghanaian cemeteries. "We do not respect the resting place of our departed ones", I told myself.
Growing up, I learnt that the remains of the dead are buried six (6) feet(1.83 meters) into the bosom of the earth, few years down the line, the tide has turned, my visits to two cemeteries revealed tombs dug a little above my waist level; for you to get the picture clearly, I am few inches above 5 ft. This practice is prevalent among most cemeteries in our dear country.
Though we believe the mortal remains of man will eventually transition into dust, the dead deserves a clean resting place at least. I observed the cemetery was "filthy" rich, smokers all around, growing bushes, and the worst of them all, some unscrupulous people have turned the cemetery into a place of convenience, "disgusting" is what I term it. The military cemetery in Accra, to stay within the confines of Ghana outshines the rest in this regard, well-kept and cleaner than some living communities.
I would not be dismayed if the graves created currently belonged to dead fellows buried in times past as the cemetery attendant mentioned rightly, my curious self learnt further that the cost of erecting customized concrete slabs over a grave costs around GHC6,500.00 or more, its higher if the relatives prefer attractive ones.
As I exited the premises of the cemetery, I pondered to myself the dead surely deserves some respect at least where they rest but as saying goes "dead men don't talk" neither can they move too, the onus then lies on the living to ensure they have a decent resting place; after all we shall become tenants of the cemetery someday.
It is obvious we have ran out of spaces to bury our departed citizens, living Ghanaians are struggling for spaces in major cities and towns, no wonder the dead are struggling to find places to lay their heads; foresight, what we have lacked post-independence is the pivotal reason why we find ourselves here.
Planning is key they say, our leaders in various MMDAs and the central government failed to see ahead that as time moved on, more citizens will find themselves in graves and additional spaces will be needed to accommodate them, Osu, Awudome, Achimota and the Tafo cemeteries all in Accra and Kumasi have run out of spaces yet burial takes place week in week out.
The burial of people in Ghana is poorly regulated, I ask myself who is responsible for the demarcation, creation and maintenance of cemeteries in Ghana? And for the existing ones which authority ensures graves are properly taken care of? Off head, the metro authorities come to mind, but are they living up to the billing? This I doubt.
My worry is, within the next 10-15 years my cursory scan does not lay hold of any concrete national plan set to address the current challenges with burying our departed ones, the trend will thus continue unabated.
It is important our leaders turn an eye to how departed citizens are treated and stem the current tide, I believe no family will be happy seeing the grave of their dead ones exhumed to make way for another, departed they have, yet we place them in cemeteries to keep their memories alive.
For this trend, the private cemetery business has boomed and citizens are charged huge sums of monies to keep departed relatives there, more cemeteries should be created to reduce the pressure on existing ones, again, the dead should be buried at their places of origin to ease the burden on city and town cemeteries.
Cremation as a burial means is gaining grounds on our terrain, regardless of your view on it, it comes with a cheap cost, saves land space and prevents some of the health hazards associated with burying bodies underground, infected ones particularly. We must turn an eye to this option help our course.
Over all, the duty to give our departed ones a befitting resting place lies on the government and citizens, the current mess needs to be rectified to prevent further disarray in the future, after all, we shall be tenants of the cemeteries someday.
Re-planning the whole burial system is critical at this moment to salvage the situation not only that, plans must be put into action to ensure we see a change in the design of our cemeteries.