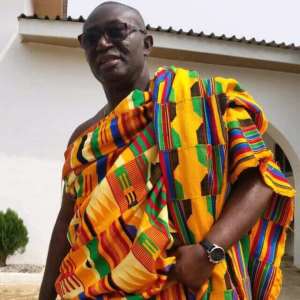 Heaven broke loose Tuesday night as some angry youth of Salaga South constituency took to the streets and burned down the New Patriotic Party (NPP) office and chased out some party executives in resentment to the naming of Damango as the regional capital of the newly created Savanna region by the president, H.E. Nana Addo Dankwa Akuffo-Addo.
The protesters, displeased by President Nana Akufo-Addo's announcement earlier on in the day, insist Salaga deserves to be the regional capital.
They argued the people of Salaga South showed faith in the NPP by voting the party's parliamentary candidate Salifu Adam Braimah as MP and therefore deserved to be rewarded with the capital of the newly created region as opposed to Damango which got the nod to be the administrative capital.
But Member of Parliament for Asante Akim North Constituency and Deputy Minister for Railways Development, Hon. Andy Appiah Kubi says the actions of the youth in relation to the pronouncement by the President of the land is uncalled for.
He is, therefore, pleading with the youth not to resort to violence but rather remain calm and lobby for developmental projects for the area.
Speaking to the media after news broke out that some Salaga youth were on a rampage destroying properties after the pronouncement of Damango as the capital for the newly created Savanna region, the respected lawmaker said, "In fact, violence is not the way to go in expressing your resentment". "There are various channels these youth can use to address their grievance". "Am very appalled by their actions. I will urge them to rather focus on lobbying for development for the area as the capital can only be one town."
He, therefore, called on the youth to calm down their flaring tempers as the selection of Damango as the regional capital wasn't a unilateral decision taken by the President. " I will urge the youth to calm down because the decision was not a unilateral one". "We all want the best for the area", he concluded.
Late Tuesday evening, it was reported that the New Patriotic Party office in the constituency had been set ablaze by angry youth of the township. The roofing and windows of the building among other valuable items in the office such as fridges, satellite dish and computers were part of the many things destroyed by the fire.
Although there was a police presence, there was little they could do. Attempts by firefighters at the scene to douse the flames were thwarted by the angry youth.
An eye witness speaking to the media said pickaxes had been brought in by the irate youth to pull down the building.
The security apparatus had also been paralysed by the actions of the youth who were having a filled day in venting their anger.