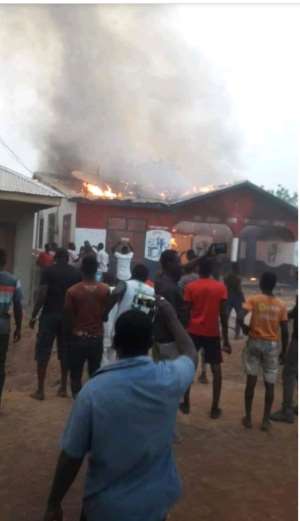 A youth group believed to be supporters of the ruling NPP has set ablaze their party's constituency office in the Salaga constituency of the newly created Savanna region.
The youth took the action immediately Damongo in the West Gonja district was announced by HE Nana Addo Danqua Akuffo Addo as the capital of the Savanna region.
Destroying several properties belonging to the party and chasing the out of Salaga township the party chairman, the youth claimed they were disappointed in the NPP after voting massively for the party in the 2016 election and producing the only member of Parliament in the Savanna regional catchment area and also the only municipality in the Savanna area.
The ruling NPP during the 2016 election made it a campaign promise to create six additional regions to the existing 10 regions.
Meanwhile, Nalerigu has also been made the capital of the North East region.