I Never Invested In MenzGold - Dr. Ekwow Spio-Garbrah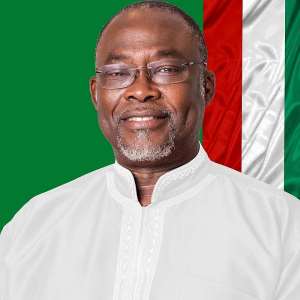 The National Democratic Congress (NDC) aspiring flagbearer, Dr. Ekwow Spio-Garbrah has reacted to a viral list of alleged Menzgold customers in which his name has been recorded as one of the political figures who has invested in the said investment company.
Per the 'suspicious' list, Ekwow Spio-Garbrah has GHC35 million worth of investment with the troubled gold dealership company. This has led to the reaction from the political figure to respond on the brouhaha surrounding the list of political figures who invested in the company. in his post he said,
"Contrary to some fake Social Media postings making the rounds, I, Ekwow Spio-Garbrah, NDC flagbearership aspirant didn't invest even one pesewa in Menzgold.
Having studied International Banking and Finance at New York University, and with professional working experience in such reputable global financial institutions like the International Finance Corporation ( World Bank Group) and the African Development Bank, I have been trained to avoid investing in any institutions whose interest rates and other promises do not conform to reality.
I sympathize fully with the fate of those who invested in Menzgold and other suspicious schemes. However, I call on Ghanaians to be more circumspect when presented with investment opportunities which are too good to be true.
If elected as NDC flagbearer and eventually as President of Ghana, I shall ensure more proactive action by Ghana's financial regulators, such as the Bank of Ghana and the Securities and Exchange Commission, in order to protect unsuspecting Ghanaians against fraudulent and criminally minded entrepreneurs."