More Africa, Less Ghana--Part 2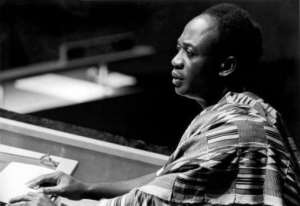 133 years ago, on November 5, 1885, delegates from various European countries met in Berlin (in Germany), took a map of Africa and divided it among themselves. Britain and France took a lot.
They call it "The Scramble for Africa." No indigenous African person attended the Berlin Conference, yet many decades after liberation, Africans still define themselves by the same boundaries Europeans (in Germany) created in Africa.
In 1963, Kwame Nkrumah led the formation of the African Union, to erase all the European boundaries from the African map and African minds.
Nkrumah felt that Europeans created the boundaries to divide and weaken the African people to serve European interests.
Look at the African map well. You English, He French, She Belgian or Portuguese. We wetin? How can we organise? How can we vibe?
You wonder why the Europeans couldn't agree to give one large part (as large as the whole of West Africa and East Africa combined) to Britain alone? That would have been very difficult to control, yet Britain's share from the scramble was equally-big, but scattered across.
To me, it wasn't a scramble — it was the colonialists' deliberate crumble of Africa for their present and future interests.
*The author, Lord Kweku Sekyi, is a freelance writer based in Ghana | email: [email protected]