KNUST UNREST: NUGS Wants Vice Chancellor And Dean Of Student To Resign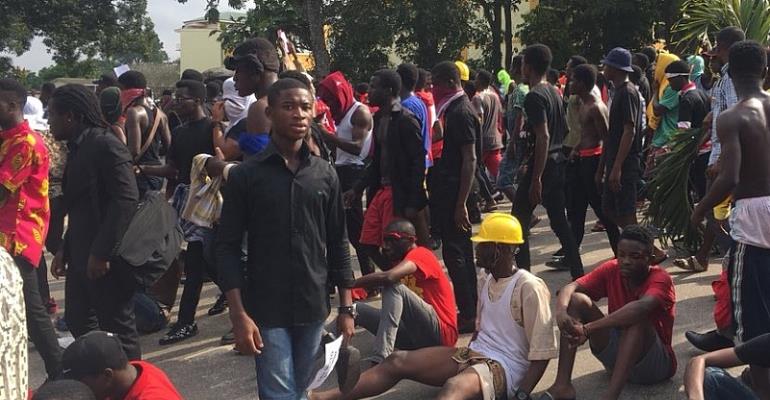 President of the National Union of Ghana Students (NUGS), Elisha Oheneba Essumang has revealed that the Student body of the Kwame Nkrumah University of Science and Technology (KNUST) wants their Vice Chancellor, the Dean of Student and head of Security to resign from their post.
It can be recalled that some students of KNUST were arrested for a holding vigil on campus last Friday for not obtaining permission from school authorities. Through the process, one student was allegedly manhandled by the internal security and is currently on admission at the KNUST hospital.
The Students Representative Council (SRC) together with some leading members of NUGS embarked on a demonstration exercise to highlight their displeasure to how they are being treated in the school particularly by their internal security. A move which has subsequently led to the destruction of property in the school and a curfew have been imposed on the school with Ghanaian student expected to vacate the school premises tomorrow.
In an interview with Class FM this evening, President of NUGS, Elisha Oheneba reacting to what has happened in KNUST said; "The students don't want to hear anything but three things, we are saying that the head of security must resign, the Dean of Students must also resign and the Vice Chancellor who should have shown leadership, has yet to show leadership, he must also resign".
According to him, NUGS has sworn an allegiance and the oath of allegiance to protect the right and freedom of all Ghanaian students. Therefore they are going to do anything they have to do to resist any oppressors rule. He insists that they are going to do that with all their might just as out National Anthem clearly states.
President Essumang further disclosed that they have scheduled a meeting with the Minister of Education tomorrow to deliberate on what and happened and the way forward. They have also planned a press conference to be held on Friday. They are also looking forward to petition His Excellency Nana Addo Dankwa Akufo-Addo concerning the matter.
NUGS has also commended the KNUST SRC for not bowing to what they describe as oppressors rule. Despite emphasizing that they not supports violence and vandalism, NUGS president observes that Ghana is a country where the rules of law works and must be allowed to work.
"We are living in a country where the rule of law and equality before the law works and today the SCR we recommend them and we recommend the over 25,000 students who tromped the streets of KNUST to demonstrate and to register their displeasure against the University Management that enough is enough of the brutality", Elisha Oheneba Essumang said.