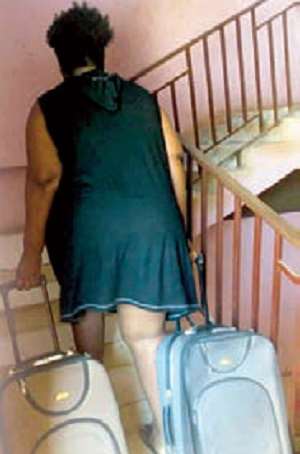 A student returning to the hall with her luggage
Students of the Kwame Nkrumah University of Science and Technology (KNUST) in Kumasi are back to school as directed by management.
Scores of the students were seen carrying their bags and other items to their various halls yesterday.
They looked composed as they returned to campus to continue with academic work in the university which was shut down about three weeks ago.
The university was closed down by authorities following violent protests by irate students which led to the massive destruction of properties.
During the protests, which took place on October 22, this year, the students destroyed over 40 cars and other valuable items like computers and security installations.
Management of the KNUST on Tuesday announced the re-opening of the university yesterday and urged the students to return to school to resume their academic work.
The decision was taken after the timely intervention of the Asantehene, Otumfuo Osei Tutu II, who is the KNUST Chancellor.
Otumfuo facilitated the smooth reconstitution of the KNUST Governing Council, which was the main issue that had prolonged the closure of the school.
Academic Work Starts
Meanwhile, Kwame Yeboah, University Relations Officer, KNUST, has announced that academic work will start on Monday.
He said the students would go for the Christmas break on December 19 and return on January 4, 2019, to take their semester examination.
"After the examination, they will be given another two-week break after which they will return for the second semester," he added.
The aggrieved students, who were certainly not happy with some policies of management, went on the rampage, destroying properties worth about GH¢1.7 million.
There are speculations that the students will be made to pay money to cover the cost of the damaged properties.
But the University Relations Officer explained that no decision had been taken on that yet.
According to him, a five-member committee to be formed by Otumfuo Osei Tutu to investigate the circumstances that led to the riots would decide which group to bear the cost.