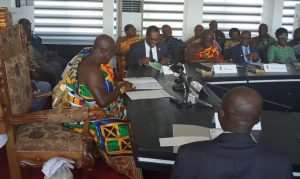 The Chancellor of the Kwame Nkrumah University of Science and Technology, [KNUST] Asantehene, Otumfuo Osei Tutu II, has said students at the University must not be encouraged to think that they have the luxury to choose which rules to obey in the University community.
He cautioned students as well as groups linked to the University to desist from engaging in activities that will undermine the work of the newly formed governing council.
The Asantehene made the remarks after the swearing in of new members on the University's Governing Council on Tuesday following student protests that led to the closure of the school for nearly three weeks.
Although the protest erupted after the school authorities caused the arrest of some students for organizing a drumming and dancing event known as 'morale' against the school's directive, many believe the protesters' action was a covert response to the decision to convert the two-male halls into mixed ones.
"Nothing should be done to hamstring the council from either discharging their duty to develop the policies for the running of the University in accordance with its statutes nor encourage students to feel they have the right to defy authority or cherry pick rules they choose to obey."
The Chancellor also warned that disorder by students, alumni or any group within the University will not be tolerated.
"Yes, a university is nothing if not a hotbed of free expression, and the penchant for rigorous debate, must be one of the intrinsic values we inculcate in our students. But defiance and disorder can never be part of those values and it should be abundantly clear that neither students or alumni or any group in the University shall be allowed to dictate or conduct itself in a manner that undermines the integrity of management."
The University will now be reopened on Friday, November 16, 2018, after a meeting of the new governing council on Tuesday.
The school's council will consult the Ashanti Regional Security Council with the aim of having it withdraw military and police personnel to allow for smooth academic activities to resume on Monday.
The proposed plan for the reopening was put across by the Asantehene, Otumfuo Osei Tutu II.
The Asantehene also plans to  institute a committee  to be led by a Judge and four others to investigate the circumstances that led to the closure of the school, Mr. Yeboah remarked.
The new KNUST Governing Council has six new members comprising Nana Effah Apenteng, a retired diplomat, and Omanhene of Bompata traditional Area; Hilda Hagar Ampadu, public health specialist, Stephen Anoff Amoaning-Yankson, President of the Ghana Institute of Engineers, Alex Quaynor, a private legal practitioner, Nana Agyei Baffour Awuah and Alhaji Yakub A.B. Abubakar.
The other members of the council are Kelvin Sah, Eunice Amoako, Isaac Dadzie, Alhaji Ahmed Yakub, Prof Joshua Agyarkwa, Prof Eric Forkuo, Charles Arthur, Nimo Baffour, Prof Kwasi Obiri-Danso, Rita Akosua Dickson.
–
By: Jude Mensa Duncan | Citinewsroom.com | Ghana | [email protected]
Follow @mensaduncan