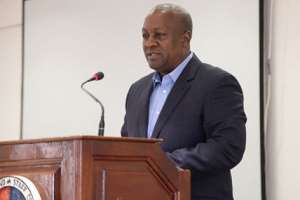 We the youth of NPP-USA have noticed with disgust and consternation, the constant attacks on this government's free SHS policy by the rank and file of the NDC. We woke up to witness the social media plastered with unfortunate videos showing ex-president John Mahama and Joshua Akamba, Deputy National Youth Organizer of the NDC, inciting innocent students against such a marvelous program which not only goes to be of benefit to the youth of today but also generations unborn.
Is it not risible and paradoxical to find the NDC which prides itself as a social democratic party kicking against the free SHS policy? No wonder the NDC sought to kill the NHIS too.
While the Akufo-Addo government seeks to bridge the yawning gab of development between the south and the north through education, it is extremely ironical to find ex-president Mahama and his assigns trying to shoot it down. What is even more worrying is that, former President Mahama and Joshua Akamba were beneficiaries of Dr. Kwame Nkrumah's free education in the north, a clear sign of lack of foresight and statesmanship coupled with selfishness on the part of the former president and his cohorts.
In another related story, Mr. Suhuyini, MP for Tamale North was also heard on tape inciting students in the northern regions against their counterparts of the southern extraction. This kind of xenophobic and tribalistic sentiments should not find a place in our body politic in the 21st century. This is not only bestial but unparliamentarily of a parliamentarian. Such comments could ignite conflicts between the north and the south. Is this a calculated attempt to achieve this purpose so the NDC could profit from a polarized Ghana along tribal lines? Is that what the NDC wants for our nation ?
As we seek to see the majority of our population educated in the near future, we the youth of NPP-USA condemn these actions in no uncertain terms and call on all well-meaning Ghanaians to not only reject them but name and shame the NDC. Again, we are calling on the Minister of Education and the GES to conduct an investigation into this matter to forestall future occurrences.
We also call on the NDC to condemn these unfortunate statements and call on the above mentioned executives to apologize to the nation as a whole.
The Free SHS program provides a unique opportunity for access to high school education regardless of income bracket and geographical location. No longer will any child from any part of the country be denied education due to poverty.
It is true that the free SHS has its own teething problems but these will be addressed by a listening government such as that of President Akufo-Addo.
We wish the youth of Ghana, especially those benefiting from Free SHS, the best of luck.
---Signed--- Edward Kojo Adade Branch Youth Organizer, NPP-USA