Are We Attacking Alban Bagbin For Lying Or For Being Too Truthful?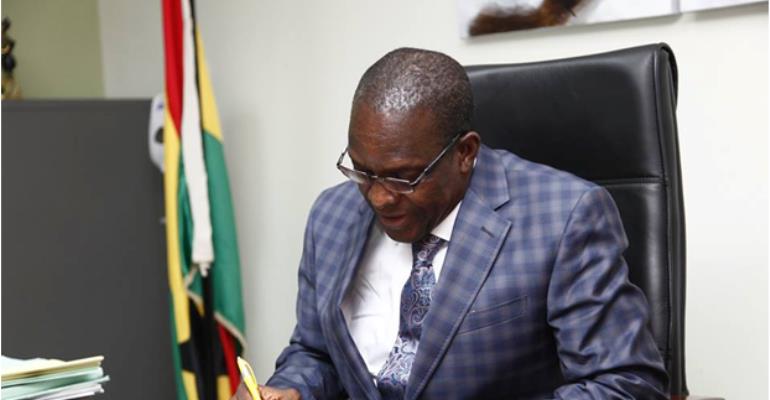 This week has been dominated by aspiring flagbearer of the National Democratic Congress for certain comments he made in relation to the leadership of John DramaniMahama and the need for the party to look elsewhere.
From radio discussions to comments on social media, many people were not amused by his comments even though in truth, the reports were largely based on inferred meaning and not necessarily the exact import of what he said.
Personally, when I hear a report and get the actual thing said, I pretend I never heard the report and try to make an independent meaning of the issues.
I have done same and would therefore try to analyse the key things Bagbin said that has earned him a lot of attacks by those who don't like him anyway and a few more who only fed on what has been reported and the comments of the first group.
BACKGROUND
On his tour of the Volta Region, in other words, the world bank of the NDC, Hon Bagbin spoke to party delegates on bad leadership decisions made by the erstwhile Mahama government that went against the party in the 2016 general elections. While acknowledging the fact that most of the people had qualities to play significant roles in the government, Mahama assigned them to the wrong areas and that affected their ability to deliver to their strength.
He went further to give some examples of such wrong placements and that is what has become controversial and exactly what this article seeks to take an impartial and dispassionate look at.
STATEMENT
1. "We had very good material in our last government, but the placement was wrong. Look at my son-in-law Ablakwa; brilliant, handsome young man, but he had problems before he got his certificate at Legon. You recall they almost rusticated him." "After he's done national service in Parliament and joined politics, he was made a deputy Minister for Education in Charge of Tertiary. [So for] the lecturers, what are you telling them? Some of these decisions affected us a lot,"
MY TAKE
In 2017, I wrote an article detailing some of the mistakes Mahama made in government that went against him in government and the Appointment of Ablakwa in Education and putting him charge of Tertiary Education. As someone I presume yet of have his second degree, I felt it was misplaced appointment not because Ablakwa isn't a good material but that he was placed in the wrong position. Educationists respect people who match up to them in terms of qualification. The NPP have Prof KwesiYankah in charge of Tertiary Education. Just compare and contrast who the lecturers are going to accept of the two.
Okudjeto speaks well and remains one of my favourite analysts and communicators in Ghana Politics, he'd have done better elsewhere.
In view of this, I agree with Bagbin, a good material was wrongly placed and that affected his performance and acceptability.
When you choose people to work, you have to consider those they are going to work with.
STATEMENT
2. "He [Dr Daanaa] is a brilliant guy, I grew up with him. It is good to give him an appointment but where to place him. That is not the right place to place him.
"Traditionally, if you are not a whole person can you be a chief? Can you be a queen mother? So if you are going to appoint the minister of chieftaincy and you appoint a very bright lawyer who unfortunately is blind what are you telling the chiefs? The chiefs rejected it, and they spoke, we refused to change. Do you expect them to vote for you?".
MY TAKE
Before writing this part, I spoke to five senior citizens about our Traditions in relation to leadership. It is sad but a fact that persons who unfortunately have physical defect, are not allowed to be chiefs or handle many traditional leadership roles in many cultures. It is also true that when Dr Daanaa was appointed to be minister of Chieftaincy, some chiefs, notably the paramount Chief of Seikwa objected his appointment. It was a general concern of many traditional leaders but the criticism and condemnation of the Seikwa chief from Ghanaians silenced many others.
A government must place people in conducive environment so that they can excel. Dr Daanaa is a legal brain Bagbin felt would have excelled as Attorney General or a special advisor to the President on various issues. For the record, Dr Daanaa is a personal friend of Alban Bagbin and a childhood friend as well. Also, Bagbin had this discussion with him at the time and advised Mahama to possibly place him at a more influential role and not where his work would be made difficult.
He didn't question his competence or ability, he only intimated that he was wrongly placed.
I believe that appointment should be made with the sector's dynamics deeply in mind. He said Dr Daanaa was qualified and definitely deserved a position but was put in charge of the only position that discriminates against the blind.
It is about Mahama's 'unstrategic' leadership and not the inability of the people he appointed. Square poles put in round holes are not necessarily bad poles: they are the consequence of bad decisions of the one who had a duty to utilize them better.
In the end, Mahama had to pacify the chiefs with V8s and money. Have we asked ourselves why he was so desperate to win back the love and acceptance of the chiefs?
A lot of things goes into political appointment, if you are appointing for women, you don't only look at the competence of the person being appointed, you also have to look at how women would respond to the appointment. The two must work together to create the right environment for cohesion and result. If you put a qualified person where he is going to struggle for acceptance, you have not even been fair to the appointee. A leader should know these dynamics and factor them into appointment in partisan politics.
STATEMENT
3. "I learnt from tradition that it is not the chief that speaks, it is the linguist and, so, when you are a leader, you must have a very good linguist. "When Prof [Atta Mills] was in power, HarunaIddrisu was our linguist in charge of communication, when my brother John [Mahama] came to power, he substituted him for Dr OmaneBoamah who is a natural stammerer," "He is a very intelligent boy, he is smart but when he is speaking, he wastes time in coming out and Ghanaians do not have that much patience, so, they are always looking for those that are rattling."
MY TAKE
After the 2016 elections defeat, one of the people who was singled out for blame was Dr OmaneBoamah. For me as a student of communication, he had no business in that Ministry. Okudjeto as Minister of Communication would have fared better.
Let us not pretend, eloquence and ability to make convincing argument is almost everything in Political Communication. As the Minister in Charge of Communication/Information, you are the official spokesperson of the government. After the technocrats have helped strategize and put together the document, it is up to you to get that message down to the people accurately and timely.
People who stammer have issues with flowing when communicating, it is not their strongest point and we cannot suddenly pretend that it is a smart decision to put one in a position where you have people who can deliver better. One of the weakest point of the Mahama administration was communication. I wrote an article after he accused the so called media cabal in 2016 calling on him to rather fix the problem with his Communication Wing.
For a communication experts, this is one area President Mahama should have nailed easily. He got it wrong with OmaneBoamah because he got a Communication Minister who had struggles communicating properly.
Yes, it is not his fault that he stammers but he could have fared better in another ministry. He failed and if he did, the one who placed him there is at fault.
This is more about Mahama getting it wrong than OmanaBoamah being good for nothing.
CONCLUSION
Bagbin has been crucified for nothing. This attitude of setting minority groups against people simply because of a mention is evil and should stop. Why is no one looking at what Mahama did wrong in his placements at least according to Bagbin and even disagree with his evaluation? Was that not the thrust of the issue?
It is a fact that some chiefs wrote to the President to rescind the decision to appoint Dr Daanaa. As the majority leader at the time, it is possible that some chiefs may have registered their displeasure at the doorstep of Bagbin.
If we want to look at issues of discrimination within our traditional settings, then we have to be discussing that holistically instead of twisting the words of a man who has dedicated the most part of his life to shaping governance in this country just for political expedience?
The very culture we celebrate is what has established these norms and practices, if we feel they are outdated, then we have to look at it broadly. For political leaders though, they have to be strategic in making decisions.
When you appoint for chiefs, understand and respect the standards the institution uphold otherwise you are going to pay for it. Have we asked ourselves why President Mahama was so desperate to get chiefs on his side prior to the 2016 elections? Have we asked ourselves why gifting chiefs cars became so rampant? The answer can possibly be found in what Bagbin said.
When you have a brilliant man like Dr Daanaa, a legal brain who unfortunately is blind, you can fit him anywhere apart from making him the head of the only institutions that discriminates against him. That man was fit for Attorney General, he was qualified enough to be a special advisor of the president. The appointer owes the appointee a conducive working environment.
It is also a fact that the Second Deputy Speaker drew the attention of the former President to this and he even suggested that he makes Dr Daanaa his special advisor on legal and possibly disability matters. He didn't do this without speaking to his childhood friend and brother Dr Daanaa too.
Also, Bagbin was speaking to Party Delegates on what led to the defeat of the party and where there was the need for leadership change
He had no option than to speak the truth, a truth we at least subtly agree with but many hypocritically crucifying him for. We live in a society that prefers to call penis as private part and so we hate people who say it as it. This is why we are suffering, we glorify conmen and chastise those who tell us the actual truth.
If we can't tolerate people who speak the truth and rather hail dishonest politically correct people, we don't deserve the quality of leadership we have so long craved for.
WHEN YOU ACCUSE A LEADER OF PUTTING TOP QUALITY ROUND POLES IN SQUARE HOLES, YOU ARE NOT ATTACKING THE POLES BUT THE LEADER.
This is basic comprehension and contextualisation sadly lost on even astute political scientists as far as this issue is concerned.
Baffling
Isaac KyeiAndoh