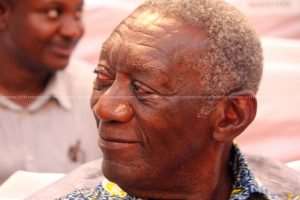 Former President John Kufuor wants persons indicted in Anas Aremeyaw Anas' yet-to-be-released investigative film to be brought to book.
After watching excerpts of the film, dubbed 'Number 12', John Kufuor described as "evil" the acts of corruption of some referees and officials of the Ghana Football Association who among other practices were caught on tape fixing football matches.
Commenting on the video, Kufuor said, "I want the nation to be shocked by this practice, it is evil. I believe Ghana is a country of laws so investigation should be put to work and of course, the outcome should be applied strictly, according to law."
There is great anticipation for the investigative piece which has dominated the country's media space in the last couple of weeks.
Among the reasons for the buzz about the premiering of the video is the earlier revelation that the President of the Ghana Football Association, Kwasi Nyantakyi used the name of President Akufo-Addo to solicit bribes from supposed foreign investors.
President Akufo-Addo reported Mr Nyantakyi to the Criminal Investigations Department of the Ghana Police Service earlier in May after watching excerpts of the film.
Mr Nyantakyi was interrogated by the CID and had his phones and laptop seized as part of investigations.
The deputy minister for Roads and Transport, Anthony Karbo was also invited to the CID later to assist in investigations after it emerged this his name was mentioned in the video in a possible corruption deal.

Anthony Karbo
It is also reported that some unidentified persons have been tracking Anas' office "and other locations ostensibly to harm him."
The Member of Parliament for Assin Central, Kennedy Agyapong has also been on a media campaign against the methods of Anas Aremeyaw Anas.

Assin Central MP, Kennedy Agyapong
The banter between Mr Agyapong and veteran journalist, Kweku Baako, who is a mentor to Anas has further heightened expectation of the video.
Hundreds of Ghanaians thronged the premises of Citi FM earlier this week to pick free tickets to the premiere .
Number 12 will be premiered at the Accra International Conference Center today [Wednesday] and Thursday at 3 pm, 5 pm, 8 pm and 10 pm.
–