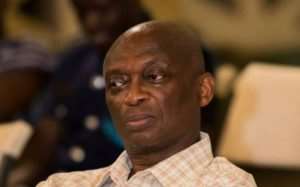 The Editor of the New Crusading Guide, Kweku Baako has dared former GFA President, Kwesi Nyantakyi to name persons claimed to have demanded a $150,000 bribe from him to block the premiering of investigative journalist Anas Aremeyaw Anas' Number12 investigative video.
According to Kweku Baako who is a mentor to Anas Aremeyaw Anas , attempts to create the perception that the journalist made the demand will fall flat as there is no iota of truth in it.
Speaking on Metro TV's Good Morning Ghana, Kweku Baako said, "Anas Aremeyaw Anas did not send anybody, anytime, anywhere to go and ask for any money from Kwesi Nyantakyi, it did not happen. Never and they know it."
His comment comes after the wife of Kwesi Nyantakyi, Christine-Marie Nyantakyi in her first public interview after the controversy reiterated that her husband indeed doled out an amount of $100,000 in a desperate attempt to stop the public screening of Anas' number 12 exposé on football corruption,
She said demand of $150,000 was made to her husband, but he could not make the full payment.
Christine-Marie Nyantakyi told Paul Adom Otchere on Good Evening Ghana that "came back to him and said the person says you need to add $50,000, and he said well, I don't have it; that's all that I have."

Former GFA President, Kwesi Nyantakyi
Asked what happened to the $100,000, she said it was later returned to them when the video was shown.
"They brought $40,000 first; and then later on, they brought $60,000 dollars," she said.
But Kweku Baako said the woman's comments were shocking. He dared her and the Mr. Kwesi Nyantakyi to name the person who approached them to make the demand.
Kweku Baako revealed that he and his team had gathered reliable information about attempts to implicate a popular lawyer like the one who supposedly made the demand of them.
"I was really taken aback when I realized that Kwesi Nyantakyi, one of the wives has come public… For purposes of law, slander and libel, I have said before that there was an attempt to compromise the showing of that document, from a lawyer. He is a friend to the Nyantakyi family. He is a friend also to Kennedy Agyapong who was running around with that story. Nobody, ever contacted Anas that somebody wants to give money so you drop it. It never happened anywhere. But there is a somebody, but it is incumbent on the Nyantakyi family and Kennedy Agyapong to mention that name," he said.

Anas Aremeyaw Anas
"But they are afraid because the man will deny their story and perhaps sue them. So what they like to do is to put out that sound bite to tarnish the integrity of Anas, something they can never achieve."
"I called that lawyer because I said walls have ears, people talk, they [Nyantakyi and Kennedy Agyapong] were talking. The lawyer told me to tell them, that they are mad that he never took money from them."

"He is a well-known lawyer, he is a popular lawyer. Nyantakyi, the police investigated, did he tell the police that at a certain stage, he was a target of blackmail, because blackmail is a criminal offence," Baako explained.