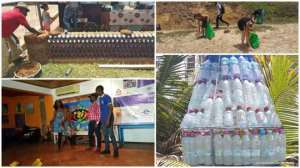 The Ghana Recycling Initiative by Private Enterprises (GRIPE) in partnership with the Earth Day Network and partners of the 2108 Earth Day/Match for Science on Saturday organized a grand exhibition to send a message against mishandling of plastic wastes.
The attendants of the exhibition, who ranged from foreigners to school children of all ages, engaged in a clean-up exercise at the Afia Beach Hotel in Accra, picking up plastic and rubber debris along the shores of the sea.
The activity was part of a USAID and GRIPE funded Dialogue to mark the World's observed Day, and discuss practical solutions of preventing a forecasted danger of having more plastics than fishes in aqua bodies in the world by the year 2050.
Mrs Magret Mary Togbenu, a staff of Nestle Ghana and founding members of GRIPE, said the plastic menace was a huge problem for everybody, and government alone could not win the fight against it, and urged private entities such as GRIPE to partner others to contribute to the fight.
She said the initiative would not only help government but would also help the industries as well as the populace to create jobs.
'This is the only Earth we have, we live in it, our industries dwell in it, and we need to protect it, keep it clean, we need to keep it in a state where generations yet to come, can come and live in it safely,' she said.
She said people needed to know they had roles to play in the fight to keep the environment clean and safe, and that everyone can make an impact in their various corner.
Mrs Togbenu said the citizenry could segregate their waste at home, and join the waste pickers who sold their waste to recyclers to contribute to the fight.
'So people here would be educated, they will leave here with some knowledge on how to segregate their waste and dispose of waste properly, they would know that they don't have to litter, and that is why we are collecting all the plastic we see on the beach today and make them available to recyclers,' she added.
She said it was good to catch children young and let them know what was right at a tender age, and that was why children were invited from Tema International School, Al-Rayan International School, and SOS Herman International School.
She said if people relied on government and did not learn to keep their environments clean by segregating and disposing them off the waste properly, Ghanaians would continue to live in filth, and their health would be affected, and monies which could have been used to do develop the country, would be used to cure ailments that could have been prevented.
Plastic Punch, an environmental protection advocate, performed a short comedy drama to portray the roles citizenry could play in Ghana's environmental sanitation management.
There were acts of poetry from some school children with some recitals on create awareness and sensitizing people on how to properly manage their plastic waste and the adverse effects it brought to them.
Other partners were Environment360, who provided the plastic bags use to collect the debris along the beach for recycling, Hipsters of Nature, and Al-Rayan International School.
GNA
By Emmanuel Kwame Donkor, GNA