Open Letter To The President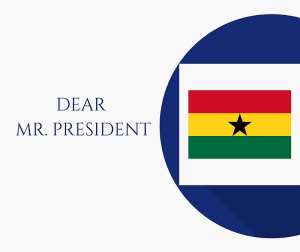 Dear Mr. President,
I would like to take this opportunity to wish you and all Ghanaians a happy Independence Day. Sixty-one (61) years ago, the illustrious Dr Kwame Nkrumah lit a flame of hope and progress in Accra for the whole world to see. This flame was lit in the hearts and minds of African's everywhere was meant to light the path to true freedom and liberty. This flame was lit notwithstanding the protests of some, whom you might be well acquainted with. Persons who felt our best chances lay with spending some more time under colonial rule. Persons who believed our independence from the yoke of foreign imperial rule was not be rushed. Yet today we all as one people celebrate our hard earned freedom.
Your Excellency, this year's celebration and in fact the theme of your presidency it appears, is "Ghana Beyond Aid." I must say this is a notion and ambition that I am fully behind. For years we have relied on aid to provide basic necessities for our citizenry. No country can face the world with true dignity when it relies on another sovereign to feed itself and provide basic education for its children. I applaud your desire to move our beloved country to a place beyond aid. It is my earnest hope that as we move towards this goal, the rest of Africa would follow, just like with our independence.
Sir, however I would be remiss and have failed in my duty as a patriotic citizen if I fail to address in this correspondence some issues of importance. Mr President, the celebration of this year's Independence Day with its accompanying parades and fetes was paid for from the public purse. Whether it was from direct disbursement of public funds or from donations, these were monies that were handed to the government. I hesitate to guess what amounts have been spent on the whole less I be the purveyor of fake news. However, if previous celebrations are taken into account and inflationary pressures are factored in, I am doubtful it will cost less that GHC 1,000,000. To some, this might seem a paltry sum, but for the average Ghanaian child this might mean the difference between a roofed classroom and studying under trees. It could also mean the availability of hospital beds for women in labour. It could also mean the provision of more facilities for already overwhelmed secondary schools.
Mr President, to have our goals set towards an aid free Ghana is laudable and commendable. However, we must strive to judiciously use our resources to ensure we meet the actual needs of our people. Though some might disagree with me. I believe there are any number of needs in our country that would have warranted a reduction in the pomp and pageantry of this year's celebration. As Pan-African I cherish more than most what the independence of the first black African country stands for. Yet, also as a Pan African I realise a dire need to allocate what resources we have to the betterment of our country. We stand now at an important juncture of our history as a country, we must not falter in our quest to be the Black Star of Africa.
Excellency, I would like to thank you for your consideration of my worries raised in this letter. They come from a place of love for our country and what we stand for. Again I wish you a happy Independence Day and commend you to God for strength and wisdom to lead our country. May God truly bless our homeland Ghana.
Sincerely,
Bernard Nii Nortey Botchway Frcs.