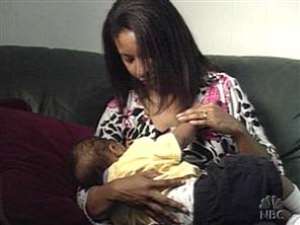 File Photo
I watched UTV morning show on the 14-11-2017 episode discussing a publication in one of the papers suggesting that breast sucking triggers breast cancers in women. The panelists were surprised as this is not what they were told previously. Now let's look the glance of the story... Cancer is spectrum of diseases and not a single entity. It is not something we should be playing with back and forth to confuse the general public. Some of these wrong medical educations could allow some ladies to submit their breasts to some men who will take advantage of them to suck it for breast cancer prevention. So let us not confuse issues! Sucking of breasts is a common sexual practice. It is estimated that over 30 per cent of men do it and women actually derive pleasure from it. It is not known to lead to any breast disease.
"You see I warned my husband to desist from sucking my breasts but he would not listen. The result is that my nipples started discharging blood and my breasts later developed a wound that is not healing!" she explained with her eyes averted. While that act turned her husband on, she always had her reservations. I reassured her that it was a common sexual practice says Joachim Osur via www.nation.co.ke › Life and Style › Saturday_Magazine
This issue became viral when a publication attributed to a midwife who made this pronouncement via www.adomonline.com › Home › Lifestyle › HealthJul 24, 2017 According to the story, a midwife in the Upper East region has advised men to suck the breasts of their partners regularly to help women keep breast cancer at bay.
"The lump in the breast is painless. It's so small that if you don't examine it well, you would not know. We have breast tissues; but when the lump is there and you don't examine it well, you won't know. It's painless. It can be there for years. When it's advanced, that's when you start getting the signs and symptoms. You'll feel some tingling, like some pins [spiking] the breasts.
You are not breastfeeding but when you squeeze the nipple you would see some discharge, either yellow or [bloody]. By the time you start feeling some pain, it means you have reached the advanced stage.
"And the best way to prevent breast cancer is to encourage breastfeeding. The baby can be sucking; your husband can also enjoy it. The men can examine their wives' and their girlfriends' breasts. The men should also suckle the women's breasts. Don't allow your wife to get breast cancer. Sucking of the breast is also good," the celebrated midwife Madam Mary Azika said at a seminar organized by the Upper East Regional Chapter of the Distance Education Students Association of Ghana (DESAG) of the University of Cape Coast (UCC).
In 2013, according to Dr. Wiafe Addai via www.myjoyonline.com/…/sucking-of-breast-does-not-prevent-br in this story, Dr Wiafe Addai who is also the president of Breast Care International dismissed the research saying there is no such thing as breast sucking to reduce breast cancer. "The research is a big lie. My outfit followed the story and I personally made calls to my friends outside the country and no one seems to know about it. How can we explain scientifically that sucking of breast avoids breast cancer? It is not true. There is no primary prevention for breast cancer yet".
Dr Wiafe further remarked that "they say men do not stop breastfeeding, so they are our last borns. We can't stop them from doing that and it is obvious that it is a game enjoyed by all. Men when it comes to that stage their mind is not there, so if you keep quiet, they think you are enjoying it, so they will do it more. We should all be careful of how we handle the breast. It is a soft organ and should be handled with care. Women should not suffer at the expense of their husband's enjoyment," she advised.
Though she dismissed the claims; as an expert like her known to have authority on the subject shouldn't have made calls to her friends on this to find out the truth but rather should have conducted a meta-analysis on studies to finally make her submission. What about if her friends are also not aware of this story trending? It means she also based her submission on hearsay but not conducting any evidence based study on this.
The female breasts, also known as "the twins" or "the girls", have remained the most conspicuous and attractive feature of the female sexual organ. Perhaps, its strategic positioning and function adds to its significance in the life of a woman. The breast is undoubtedly the priciest asset of women and when it is in good health also benefits men. Every woman has a breast; but every breast doesn't have to make a woman's life miserable. This important subject if it goes rogue plaque a woman into a different state of affairs.
Besides the age long biological function of the breasts as a source of food and nourishment for babies, the breast is also a major source of sexual attraction for the male specie, just as it is also a key sexual organ for the woman, highly sensitive to stimulation. The fact that they come in various shapes and sizes, further add to their uniqueness and endearing place in our hearts as humans says Yetunde Arebi.
Yetunde Arebi further said that as a sexual organ, the breasts have been known to give immense pleasure to both men and women during sexual encounters. In fact, some women have reportedly disclosed that they are capable of achieving orgasm even when thoroughly stimulated through sucking and caressing of the breasts alone. Though, because of this highly sensitive nature, some women find it very uncomfortable or even painful to submit their twin girls to constant sexual manipulation of any kind. Interestingly, men are constantly drawn to the breasts. A lot of this attraction has been attributed to psychological composition, perception and beliefs. For, pray, why would a full grown man be obsessed with sucking some mounds of milkless breasts? I don't often get logical answers to this question when I ask. The function of the breasts in sexual behaviour has been attributed to human Face -to -Face copulation that is unusual among other mammals. Since the breast already serves the function of mother-infant bonding, then it is also excellent for male -female bonding, says an argument. After all, it is just within reach.
"Doctors recommend that women reduce the risk of getting breast cancer by having their breasts sucked. It is said that regular sucking of the breast lowers the risk level that tends to build up breast cancer. The breast must be sucked as often as possible, help women fight breast cancer today. Men, please do your part, and suck a breast now and women please let your body free!
The whole issue started from a BBC report suggesting that breast sucking by men and women can reduce the risk of developing breast cancer for both sexes is generating mixed reactions from the public. The report published by the BBC indicates that breast sucking has the tendency of reducing the incidence of breast cancer in men and women who engage in the practice. Most men find pleasure in sucking women's nipples and in some cases; women also suck men's nipples during love making."
Do not take this lightly. Breast cancer is the most common cancer diagnosis among black women, and among women nationwide. In Ghana, it account for 50% of death annually. Studies have shown that when black women follow the same preventive measures as white women, their death rates from breast cancer are very similar. Although black women are less likely than whites to develop breast cancer, they are more likely to die from it, doctors have long known. Black women also are diagnosed at younger ages and at later stages of disease.
It is said that thousands of women might be spared the agony of breast cancer if they extended the period for which they suckle their babies. A study was carried out by a group of researchers in the UK. Although it indicated a relationship between breastfeeding and a lower risk of cancer, more research is necessary to clearly establish a causal link. Breastfeeding (baby) and Breastsucking (men) are two different things. According to James Klosky (UK researcher): Breastfeeding, in addition to diet and exercise, avoiding tobacco use, and engaging in safe sexual behaviour, is one more behaviour that can potentially ameliorate adverse late effects of cancer treatment"
Breastfeeding has been found to provide a measure of protection against uterine, cervical and ovarian cancers as well as breast cancer. A study by Yale University researchers showed that women who breastfed for two years or longer reduced their risk of breast cancer by 50 percent.
To suck or not to suck to reduce her risk?
In studies, Breastfeeding is what's been shown to reduce the risk of breast cancer. The researchers compared the rate at which women breastfeed babies back in the days to present days; the rate has reduced over the years. Women are encouraged to breastfeed their babies longer now because it's good for the baby's health and good for them (woman). In my review of data's I have not seen any report that shows that men will help their wives/girls reduce the risk by sucking their breasts.
Supposedly there is science that proved that breast sucking (by men or babies) would reduce the risk; the man who is doing the sucking will not be at any risk. His chances of getting cancer will not increase just because he is sucking the woman's breast.
so with my review there are no scientifically proven studies indicating that breast sucking is of any medical benefit to the woman whose breast is being sucked or the person doing the sucking. However, what has been scientifically proven is the fact that breast sucking when correctly done is of enormous desire to the woman and sometime as a standalone acts lead to orgasm or collectively with some other forms of sexual stimulus benefits a woman to attain orgasm earlier. Again, neither has any research shown that breast sucking can give a woman cancer as stated in the newspaper publication discussed on UTV. As already mentioned and contrary to popular belief, having your spouse suck your breasts for pleasure has not been scientifically shown to prevent or cause cancer or any other disease, so if a couple finds it acceptable they should feel free to include it during lovemaking. I rest my case!