The Real Enemies of One Nigeria 
Opinion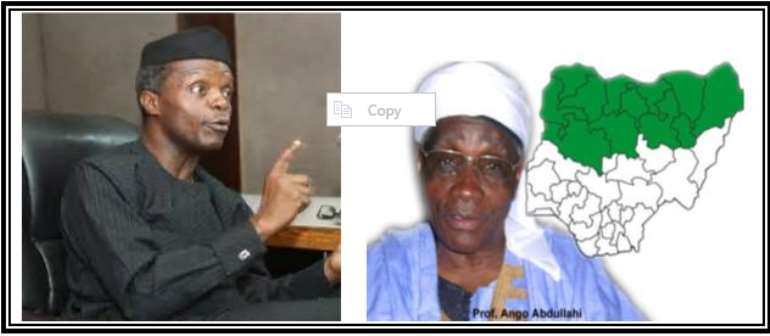 The meeting of Nigeria's Acting President, Professor Yemi Osinbajo with the Northern and Eastern "leaders" of the country could not have been better timed. More appreciably was the President's strict and no-nonsense approach to the issue that aggravated the meeting. Professor Osinbajo must be commended by all true Nigerians. He did not mince words. He spoke to those ill-motivated tribal "forces" of the country the language they needed to hear. These are the ones who have been largely responsible for Nigeria's failure at nationhood and they needed to understand that. They needed to understand that the order given to Igbo people living in the North to quit the area before 1st October had no basis at-all in the Nigerian constitution. They needed to refresh their minds on what the Nigerian constitution says about what is going on. What does it say? In other words, who is qualified or not qualified to be a Nigerian?
According to the Nigerian constitution, anyone can gain Nigerian citizenship by birth, by registration or by naturalization. Every person born in Nigeria after the date of independence (October 1, 1960), either of whose parents or any of whose grandparents belongs or belonged to a community indigenous to Nigeria is a Nigerian citizen. The constitution does not specify tribal citizenship because it does not recognize it. Every person born outside Nigeria either of whose parents is a citizen of Nigeria also has Nigerian citizenship.
By registration, subject to the provisions of section 28 of the Constitution, a person to whom the provisions of this section apply may be registered as a citizen of Nigeria if the President is satisfied that he is a person of good character. Two people must testify to this, of which one should be a Religious Minister. He can also become a Nigerian citizen if he has shown a clear intention of his desire to be domiciled in Nigeria and has taken the Oath of Allegiance prescribed in the Seventh Schedule to the Constitution. The provision of the section applies to any woman who is or has been married to a citizen of Nigeria or every person of full age and capacity born outside Nigeria whose either grandparents is a citizen of Nigeria.
By naturalization, subject to the provisions of section 28 of the Constitution, any person who is qualified in accordance with the provisions of the section may apply to the President for a certificate of naturalization. No person shall be qualified to apply for the grant of a certificate or naturalization, unless he satisfies the President that he is a person of full age and capacity, of good character and has shown a clear intention of his desire to be domiciled in Nigeria.
He shall be qualified for Nigerian citizenship if he is, in the opinion of the Governor of the State where he or she proposes to be resident, acceptable to the local community in which he is to live permanently, and has been assimilated into the way of life of Nigerians in that part of the Federation. He can also be considered for citizenship if he is a person who has made or is capable of making useful contributions to the advancement, progress and well-being of Nigeria or resided in Nigeria for a continuous period of fifteen years.
In consideration of these provisions, most of us Nigerians in the Diaspora feel so disappointed to learn that educated people like Professor Ango Abdullahi are supporting a largely illiterate gang of youths from the North who are giving ultimatum to their fellow Nigerians to quit the North for whatever reason.
Professor Abdullahi is supposed to be learned. Moreso, when he also claims to be the spokesman for the North.
Honestly, I have for a long while thought it, that the main problem that Nigerian youths should be dealing with is the scourge that is called tribal leadership. This tribal leadership idea, to my mind, is the reason Nigeria has been unable to have a true national spirit. Tribal leadership helps them fill in the pockets of ill-motivated Nigerian politicians with ill-gotten money. 'I am an Igbo leader.' Hausa and Yoruba will line his pocket with money. 'I am an Hausa leader'. Igbo and Yoruba will fill his pocket with money. 'I am a Yoruba leader' and Igbo and Hausa will placate him with money. That is as far as one Nigeria goes for their group of political dupes.
A critical look at the behavioral pattern of societies shows that the language of a people is the bedrock of their tradition and culture. People will embrace and integrate a stranger who speaks their language more easily than the stranger who does not. And for that reason, I suggested to the National Assembly in an article that was widely published across the globe that those who build a nation think in terms of the next generation, not the next election. I suggested to them to start building the Nigerian nation by enacting a law that will make it compulsory for every child born from the day the law is made to learn to speak the three major languages, Hausa, Igbo and Yoruba from the primary school level. In about two generations, the bridge would have been built between the tribes in an attempt to evolve a true national spirit. So, one way to get the ethnic bridge solidly built is to introduce the compulsory study of the three main Nigerian languages, Igbo, Hausa and Yoruba into the national school curriculum. In such a way, every Nigerian child learns in school to speak those three languages as a stepping stone towards total integration and enhancement of Nigerian nationalism. The fact that the National Assembly has criminally refused to note this factor or take it seriously gives the impression that they have all along endorsed the ethnic sentiments that underline Nigerian "nationalism" in its present context. So, if this language issue is considered as important as it is, why does the National Assembly not have the political will to start from making this law and we will all be there to see how it goes? The reason is that they really don't want a true One Nigeria because when that happens they will lose financially. Unfortunate as it is, the truth is that tribal leadership is what pays in Nigerian politics. And I stand to be contradicted.
And so, that has also been the bone of contention. These reckless, selfish politicians whip up the sentiments of their equally reckless youths to give the impression that the land belongs to them and they determine who stays where. Even professors among them do not care about what the constitution of the country, the working document that wields the various ethnicities together, says.
And that is basically why the Igbo started agitating in the first place.The position of the Igbo in the entire Nigerian experiment is very straight forward. The Igbo are the ones being hounded for agitating for the actualization of the Biafra nation. But they also know that they are the ones for whom the unity of Nigeria means so much. They are the ones who have made the most enormous sacrifices to keep Nigeria together. They are the ones who have invested their money and skills in the development of Nigerian villages, towns and cities other than their own. And these facts are incontrovertible. For the Igbo, being truly One Nigeria means that ethnic chauvinism has to be expunged from the Nigerian national dictionary. It means that any Nigerian child born in any part of Nigeria has legitimacy of citizenship of his or her place of birth. It means that any citizen of Nigeria can live, work and help develop any village, town or city in Nigeria where he feels comfortable to live in, without being constantly reminded by those who claim to own the land that he is a foreigner in his own country. It means that Nigerians have to realize and accept that they are Nigerians first, before they can see themselves as Hausa, Igbo or Yoruba. It means the death of tribal leadership. So, from what the constitution of the country specifies, the Igbo are saying that either they are truly One Nigeria or they are not. And if they are not, they should be allowed to go. No sentiments!
So, if that is not going to happen, the weak laws put in place at the moment to emphasize nationalism in Nigeria must be strengthened. Unless stringent laws are put in place and ardently enforced to ensure that Nigerians of whatever extract are made to feel at home in any village, town or city of Nigeria they choose to live in, the question of oneness in Nigeria can never be fully resolved and no one would be surprised if from time to times issues like the ultimatum given to Igbo in their own country erupts.
Even the fact that some Northerners want the Igbo to go from the North raises very serious questions about relationships. Assuming that tomorrow, the Igbo break away and actualise their Biafra dream, would it be in the interest of good neighbourliness that the property of the Igbo are confiscated by the Northerners when other countries' nationals are allowed to own properties in Northern Nigeria? What sort of country will that be which can stop a particular ethnic group, not individuals, who have the money from owning properties in the country just because they are Igbo? That, by any stretch of imagination is a travesty of international justice because just as many Igbo have found a home in the North, so have many Hausa found a home in the East. At least I am sure of Imo State where I come from. I know that the Hausa community in Imo regard the state as their home. And we have no problem with that.
But just in case the Northern youths don't know where their problems are coming from, it might well be necessary to remind them that among all the 15 Heads of State who ruled Nigeria since its independence in 1960, two came from the West, and three came from the East while eight came from the North.
From the West, General Olusegun Obasanjo was Head of State for 3 years and 258 days from 16 January 1976 to 1st October 1979 when he voluntarily relinquished office and again for 8 years from 29 May 1999 to 29 May 2007. Chief Ernest Shonekan was Head of State for only 83 days from 26 August to 17 November 1993.
From the East, Dr Nnamdi Azikiwe was ceremonial Head of State for 2 years and 107 days from 1stOctober 1963 to 16 January 1966. Azikiwe was deposed in a military coup. General Aguiyi Ironsi became Head of State for 177 days, from 16 January 1966 to 12 July 1966. He was assassinated in a military counter-coup. Dr Goodluck Jonathan was Head of State for 5 years and 25 days from 5 May 2010 to 29 May 2015. He conceded defeat to the incumbent President at the 2015 elections.
From the North, General Yakubu Gowon was Head of State for 8 years and 362 days from 1st August 1966 to 29 July 1975. Gowon was ousted in a military coup. General Murtala Muhammed was Head of State for 199 days, from 29 July to 13 February 1976. Muhammed was assassinated in a military coup. Alhaji Shehu Shagari was Head of State for 4 years and 91 days from 1st October 1979 to 31st December 1983. He was ousted in a military coup. General Muhammadu Buhari who is the current President was the Head of State for one year and 239 days from 31st December 1983 to 27 August 1985. He too was ousted in another military coup. General Ibrahim Babangida was Head of State for 7 years and 364 days from 27 August 1985 to 26 August 1993. Babangida was also ousted in a military coup. General Sani Abacha was Head of State for 4 years and 203 days from 17 November 1993 to 8 June 1998. Abacha died in office. General Abdulsalami Abubakar was Head of State for 355 days from 8 June 1998 to 29 May 1999. He voluntarily relinquished office. Alhaji Umaru Musa Yar 'Adua was Head of State for 2 years and 341 days from 29 May 2007 to 5 May 2010. Yar 'Adua died in office.
This means that for the 55 years Nigeria has had independence, the Easterners have ruled for about 8 years, the Westerners for about 12 years and the Northerners for about 35 years. But rather than concentrate on issues that would bind the various ethnic groups in the country more closely together, instead of bridging the gap between the extremely rich families and the extremely poor ones across the country, these leaders kept accumulating so much money for their families. Now, they have become the tribal heroes. The youths should open their eyes. These tribal leaders are the real enemies of One Nigeria, not the ordinary Igbo man or woman in the North who is struggling within his country to feed his or her family.
Mr Asinugo is a London-based journalist and publisher of Imo State Business Link Magazine [imostateblm.com]