Airtel Ghana And Coderdojo Team Up To Empower Youngcoders And Programmers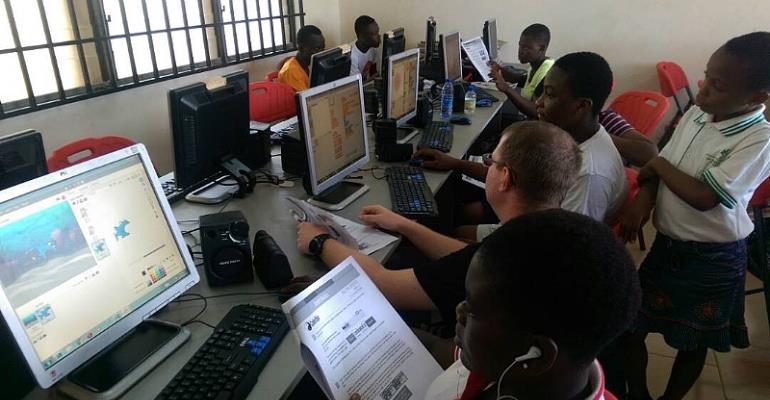 17 May, 2017---Airtel Ghana, the Smartphone Network, and Coderdojo, the global organisation that focuses on building networks of free computer programming clubs, have teamed up to shape the minds and empower young coders and programmers in Ghana to develop technical and practical skills in line with Airtel Ghana's commitment to empower young people through Science, Technology, Engineering and Mathematics.
The partnership enables pupils of La Wireless Cluster of Schools and its environs to be trained in coding and programming by volunteers from Airtel Ghana and Coderdojo. The second coding session, as part of this initiative, was held last Saturday attracting over 40 pupils from the La Wireless Cluster of Schools and its environs.
Airtel Ghana and Coderdojo are focused on empowering young coders and programmers to use the knowledge and practical skills garnered to write codes, develop Apps and programmes that solve practical every day challenges in society. The initiative is also aimed at exposing young people to coding and programming at an early age to ensure they are grounded and well position to be global tech leaders and innovators in the future.
The coding and programming clubs (Dojos) provide fun, free and open learning environments where young people can meet others with similar interests, develop skills and build creative projects of their own.
Commenting on the initiative, Airtel's Director of Legal and Corporate Affairs, Hannah Agbozo said, "We are thrilled to partner with Coderdojo to make available this globally recognised platform to enable our young people learn, create and collaborate. At Airtel, we believe in unleashing the potential of young people through and we have consistently done so through our community investment initiatives such as the School Adoption programme and Evolve with STEM initiative.
Coding and programming is at the heart of digital innovation and creativity. We want to empower these young minds with the knowledge and practical skills to be global technology leaders of the future. Through this initiative we are providing the platform for students to connect, collaborate and create technological solutions that addresses the challenges their communities face."
"Technology is a driver of innovation and development. It is an enabler and as we empower our young people through initiatives such as this, we put them on a sound footing to lead the development agenda for our continent." Our gratitude goes to Coderdojo for partnering us to impact the young people in this country". She concluded.
Samuel Polley, Country representative of Coderdojo commended Airtel Ghana for partnering with Coderdojo to reach out to pupils in La Wireless and its environs. He was optimistic that the initiative will be extended to other communities to benefit students nationwide.
Airtel Ghana continues to demonstrate commitment towards empowering people through its impactful CSR initiatives such as the School Adoption Programme and the Evolve with STEM initiative.
About Bharti Airtel
Bharti Airtel Limited is a leading global telecommunications company with operations in 17 countries across Asia and Africa. Headquartered in New Delhi, India, the company ranks amongst the top 3 mobile service providers globally in terms of subscribers.
In India, the company's product offerings include 2G, 3G and 4G wireless services, mobile commerce, fixed line services, high speed home broadband, DTH, enterprise services including national & international long distance services to carriers. In the rest of the geographies, it offers 2G, 3G and 4G wireless services and mobile commerce. Bharti Airtel had over 372 million customers across its operations at the end of March 2017. To know more please visit, www.airtel.com
About Airtel in Africa
Airtel is driven by the vision of providing affordable and innovative mobile services to all. Airtel has 17 operations in Africa: Burkina Faso, Chad, Democratic Republic of the Congo, and Republic of the Congo, Gabon, Ghana, Kenya, Malawi, Madagascar, Niger, Nigeria, Rwanda, Seychelles, Sierra Leone, Tanzania, Uganda and Zambia. Airtel International is a Bharti Airtel company. For more information, please visit www.airtel.com , or 'like' the Airtel Ghana Facebook page via www.facebook.com/airtelgh or follow us on Twitter via the handle @airtelghana.