Lessons from Leicester's PL Triumph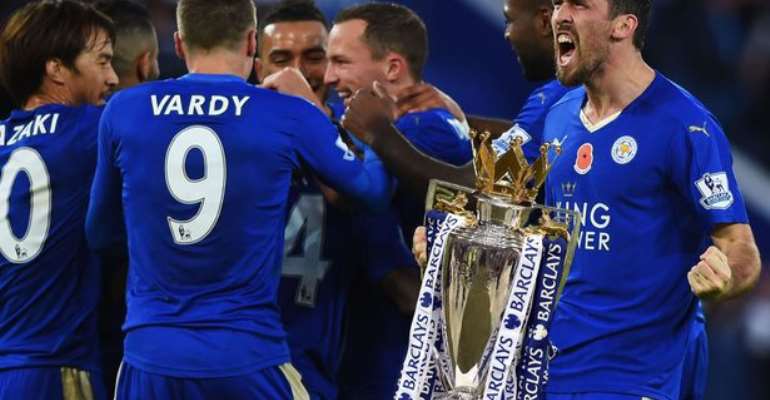 Stupendous feats of sporting success inspired by sheer doggedness and willpower abound—Liverpool's Miracle of Istanbul, Nottingham Forest's back to back Euro triumph in the 1970s, and Buster Douglas victory over Mike Tyson—but none comes bigger than Leicester's 2015/2016 Premier League Triumph.
A year ago they were bottom of the Premier League, facing a swift return to the Championship. But that didn't happen. They worked extra hard, discovered a new found strength in themselves and fought for their lives, livelihood and future. So strong was the will to win and the desire to do it all that they ended up carrying that momentum into the season in which they will eventually become champions
So how did they do it? How did a team of super cheap recruits like Kante (at £5.6million he sure was a bargain buy, considering what he has done this season), supposedly has-beens like Huth, a goalkeeper who to all appearances wasn't cut out to be as good as his daddy, and a little Algerian dude who cost £ 400,000—comparing that to Sterling's £49 million cost puts into perspective what Mahrez has achieved with Leicester—led by a coach who almost always fall at the last hurdle manage to become champions of the most exciting, most physically demanding football league in the world? How did they do it?
It all has to do with self-motivation and self-confidence, momentum, hard work and humility.
Self-motivation
A few of Leicester's players have been at bigger clubs and were let go off for not being good enough. Danny Drinkwater and Danny Simpson were at Man United and couldn't make the cut. But that didn't stop them from making it to the top.
They never lacked belief in themselves and their potentials and lived up to it. After being sent out on loan, they could have settled back and think themselves only fit for lower league football, but they didn't. And therein lies a lesson for us all; no matter how many times you fail and how bleak the present looks, continue believing in yourself and working hard. A beautiful future awaits.
Momentum
Momentum is a wonderful thing—you start doing something, you stick to it no matter what, and you get good overtime; to the point where you become near-unstoppable.
That's what happened to Leicester.
They worked hard to avoid relegation, winning six of their last eight matches. And then the magic happened. They just couldn't stop winning, couldn't stop believing in themselves and their potential. So, whatever you're doing, keep doing it. Momentum is key.
Hard Work
Having enough talents or loads of it is all well and good, but pretty useless if you're not ready to put in the hard work, dedication, and application that will bring it to fruition.
Working hard is something Leicester's players have been doing all season. They have no luxury players, no prima donnas who will wait for the perfect opportunity to get involved. They work their roles, work for each other, and work for the team.
Humility
At the start of the season, nobody in their wildest imaginations saw Leicester as potential champions, and I don't think they themselves were foolish enough to dream it.
I can just imagine them thinking that we've avoided relegation, now let's do it again. And that exactly was the target. But then they started with a win, another win, followed by a creditable draw at home to Tottenham, and then the impossible happened.
They continued winning matches, stuck to their goal of attaining 40 points with humility and hard work, and then glimpsed what they could achieve if they kept going.And they did it; winning the 2015-2016 Premier League eleven points clear of closest rivals Tottenham. That's got to be the greatest sporting success story ever.