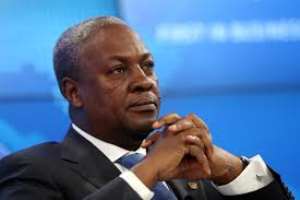 President John Dramani Mahama
"Dead and buried secrets will resurrect one day".
So it should not be all that surprising if Manasseh Azure Awuni has managed to come face to face with a "resurrected" secret about President Mahama.
Obviously, President Mahama never thought his surreptitious car gift from a Burkinabe Contractor will ever surface one day. But it has resurfaced to his puzzlement.
As a matter of fact a presidential role is a serious endeavour and as such it requires a serious person.
So if corruption cases are hanging on the neck of an individual who is steering the affairs of the nation and has so far unable to seriously disprove such allegations, then discerning Ghanaians cannot be accused for showing serious concern.
In retrospect, little did some doubtful Ghanaians believe former Attorney General, Mr Martin Amidu when he told Ghanaians that our late President, Mills, set up a committee to Investigate then Vice President John Mahama regarding the Processes of the Acquisition of Five Aircrafts (5) including Embraer 190 Aircraft and hanger for the Ghana Armed Forces.
In fact, if we are to ruminate over Mr Amidu's exposition, we can infer that the late Mills lost trust in his then vice president Mahama because of the dubious handling of the deal.
Truly, if the late Mills set up a committee to investigate his vice Mahama, then he had a glint of suspicion on his mind . In other words, he felt Mahama was trying to rip off the nation, hence setting up a committee to unravel the furtive deal.
In a way, upon a carefully considered deliberation, reflective thinkers may conclude that late Mills was not happy with the deal. And, if that was not the case, why would he set up a committee to investigate Mahama, the architect of the whole deal?
Clearly, the late Mills dissatisfaction about the deal prompted him to set up a committee to investigate vice president Mahama. In fact, there are serious issues here that need to be considered by discerning Ghanaians.
Mr Amidu for example, observed: "But the very fact that the late President Mills even contemplated this committee meant that he was uncomfortable with and suspicious of the alleged inflated prices of the aircrafts".
Undeniably, however, the Late Mills put his trust in Mahama. But if we are to critically assess Mr Amidu's account of the corruption saga, we can then draw an inference that Mahama betrayed the trust the late Mills reposed in him.
If indeed the late Mills lost trust in Mahama prior to his death because of his unfaithfulness, then the voting public should be very careful in giving Mahama the mandate for a second time.
Again, the way and manner President Mahama handled the STX Housing deal leaves much to be desired.
Even though the deal did not materialise, we incurred a loss of an excess of $250 million, how realistic was that?
Moreover, after the failed deal with STX to build 30,000 housing units for the nation's security agencies, the NDC government entered into another deal with the GUMA Group, for the construction of 500 housing units.
Unsurprisingly, however, the deal which was led by President Mahama was widely criticised by various stakeholders, just as the STX deal, following the decision to sideline local construction firms in favour of the foreign company.
The unusually high cost of the project was also a source of concern to many.
What's more, President Mahama's handling of dubious judgment debt payments also leaves much to be desired.
To be quite honest, it is only the heartless who will shamefully give gargantuan sums of money belonging to the nation to people who have no entitlement.
In all honesty, there is nothing wrong to pay genuine judgment debts. Nevertheless, I strongly believe if President Mahama's government had handled the payments parsimoniously, the purported $850 million judgment and settlement payments would have been brought to the barest minimum.
The big question the discerning Ghanaians should ask President Mahama and his selfish and corrupt officials then is: 'If just under eight years, you have paid dubious judgment debts in an excess of $850 million, how much would you pay in sixteen years?
It is in the light of these gargantuan corruption scandals that I am appealing to discerning Ghanaians to be extremely careful on choosing who should steer the affairs of the nation.
In a way, Ghanaians should be able to hold our public officials to account without any obstacles whatsoever.
How long shall we stand aside and allow these selfish and heartless individuals to squander our scarce resources?
I think it is about time we held our public officials to account for their persistent shenanigans.
Verily, Ghanaians should endeavour to take corrupt public officials to task.
Fellow Ghanaians, let us remember THAT CORRUPTION can divert scarce resources from poor and disadvantaged in our society.
So it is extremely important to elect serious individuals who have the wherewithal to move the nation in a positive direction.
As a matter of fact we must not and cannot allow greedy and heartless individuals to waste our scarce resources.
It is against this background that I am urging discerning Ghanaians to choose a leader who would not countenance corruption in his administration.
K. Badu, UK.