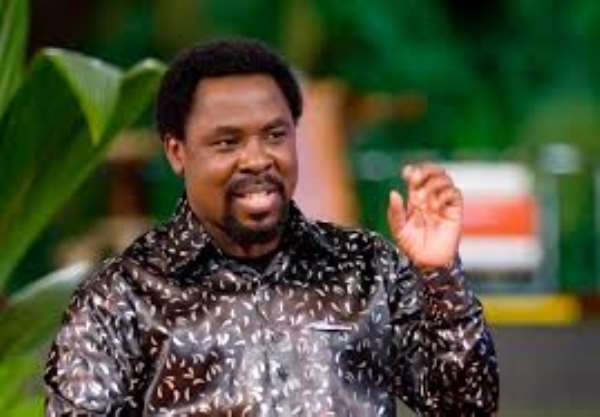 THE headline was striking: "NO MORE TERRORIST ATTACK IN GHANA – TB JOSHUA
The story below the headline read:
QUOTE:: "17 Apr, 2016
"By Audrey Agyiri (GhanaClass.com)
"The Founder and Leader of the Synagogue, Church Of All Nations (SCOAN), Prophet T.B. Joshua, lifted the terrifying news on the shoulders of Ghanaians when he reiterated in his revelation that God has heard the cry of Ghanaians, and that no terror attack will befall the nation. Prophet TB Joshua commended Ghana at how stringent steps was (sic)taken by the security apparatus in ensuring that, the nation is safe from any terror attack. He said, "I was very very happy the nation Ghana, they took the bull by the horn (sic) and the evil doers put together, are no match for Ghana."
"....Last week Sunday, Prophet TB Joshua …. said [that] Ghana and Nigeria would face a possible terror attack. During a church service at SCOAN in Nigeria which was broadcast live on his Emmanuel TV, [Prophet Joshua] asked his congregation to pray for Ghana and Nigeria as he recounted seeing them in a foreign attack. He said the said attack would happen between Thursday, Friday, and Saturday....."I am seeing an attack and that will be in a foreign way not local way," TB Joshua said.
UNQUOTE
And now, in his divine kindness, T B Joshua has "lifted the terrifying news on the shoulders of Ghanaians"!
I wouldn't be commenting on T B Joshua and his alleged revelations at all had it not been for the fact that the Ghana Police apparently took the alleged revelations seriously. Hey, it's a free country and anyone can believe what he or she likes to believe.
What utterly astonished me was this:
QUOTE: "Don't panic over TB Joshua's 'terror prophecy' – Police
Monday 11th April , 2016 5:23 pm
"The Ghana Police Service has urged Ghanaians to remain calm in the wake of a prophecy by the founder of the Synagogue Church of All Nations, Prophet T.B Joshua, predicting a possible terrorist attack on Ghana....The Police Service has, in a statement, assured the public that "security agencies have jointly put adequate measures in place to forestall any terrorist attacks or disturbances.... The requisite operational strategies, including intelligence gathering and tactical deployment of personnel have been unfolded to nib (sic) any breach of the peace in the bud. In view of this, the Police is seeking the co-operation of the general public in the fight against the scourge of terrorism and other violent crimes. The public is, therefore, implored to bear with the Police, any inconveniences efforts to deal with the situation may cause," it added.
"The statement further entreated Ghanaians to be vigilant and report any "suspicious parcels or items" left at public places and other vantage points, as well as "questionable characters" to the Police for necessary actions to be taken."UNQUOTE
Now, the Ghana Police have every right to alert the public to any dangers that its information-gathering techniques enable it to anticipate. But it is completely unprofessional for the Police to issue a warning to the populace that gives the impression that the Service is acting in the context of a "prophecy" by any so-called Prophet. For there are many people in Ghana, some in the Police Service's own ranks, who would not regard "magic" as a legitimate part of ensuring public safety. The professionals rely on information from reliable sources; announcements made at vantage points over public address systems; carefully-crafted panel discussions on radio and television; and an increase in patrol activity on "beats", both on foot and by vehicle.
Surely, a "prophecy": is magical in nature? Was any of our top police officers taught to take notice of "magic" when they attended course at Hendon (England) and elsewhere?
Rational beings go by what happens to them on a minute-by-minute basis. We don't wait to be told by those who believe in "prophecies", that a fellow human being is able to transcend the limitations of time and see into the future! If that is not a magical power, then what is?
Of course, as I said before, if people want to believe in magic, they are liberty to do so. Our Constitution guarantees freedom of conscience and freedom of religion. Members of the Police Service, as individuals, can also believe in magic, if they want to. What is out of order is that the Service, as a publicly-funded organisation, should lend official credibility to the statements of any person operating under the aegis of magical powers.
By appearing to act in the wake of T B Joshua's prophecy, the Ghana Police – whether knowingly or not – advertised T B Joshua as someone whose prophecies must be taken seriously, even by the organisation whose members are entrusted with, and are professionally trained to seek information and take effective action, based on such information, to safeguard public safety,
By thus advertising the magical powers of T B Joshua, the Ghana Police have given the impression that it is not neutral, as far as religious belief is concerned. Yet we cannot have a Christian Police, an Islamic Police, or a Juju Police! If any sections of the Ghanaian populace perceive that the Police Service is under the influence of a particular bit of magic with which they do not concur, they will be within their rights to hold the Ghana Police in absolute contempt for abandoning the religious neutrality to be expected of such a polyglot organisation with so many different responsibilities, including the promotion of public confidence in the orgsnisation itself, as well as national unity, generally.
"Ho! – the Ghana Police? Don't mind them! If you want the crime committed against you to be solved, you'd better go and pay T B Joshua to find the culprit for you. Or if you prefer the saucy guys, Bishop Obinim and Kwaku Bonsam are ready to collect your cash and tell you what you want to hear. After all, if you report to the police, you have no guarantee that they won't go to T B Joshua -- or indeed, any of the others -- for guidance. So you might just as well go straight to the sources!"
Is this the sort of cynical attitude the Ghana Police Service want the public to adopt towards them?
We can consider the possible loss of public confidence as the Mistake Number One made by the Ghana Police. The second one is more serious, for it points to the fact that the Ghana Police do not carry out a lot of research before going public with the ideas it wants to communicate to the public. For if it had done the slightest bit of research on T B Joshua, it would have been wary of putting out a statement that would appear to give credibility to the utterances of an individual of his sort.
A good police service will have opened files on T B Joshua and his ilk, for some of these fellows are so money-conscious that they do not scruple to engage in acts bordering on fraud, in their dealings with the "gullible public" which means the police must protect the public against them by putting their actions under the searchlight to determine whether they are above board or are tantamount to fraudulent claims made under false pretences.
Listen to this: on 14 September 2014, a six-floor guest house being built as an attachment to T B Joshua's church in Lagos, collapsed, killing at least 116 people. Here is a report on the catastrophe:
QUOTE:" News24Wire (Cape Town)
"The general overseer of the Synagogue Church of All Nations, Pastor Temitope Joshua, has blamed the collapse, which killed 116 people and injured several, on a "strange aircraft".... 81 South Africans were killed in [the collapse. [But] following an inquest, coroner Oyetade Komolafe said ... that the collapse was due to structural failure. He recommended that the church be prosecuted as the guest house did not have planning permission.
"The church was culpable because of criminal negligence resulting in the death of the victims," he said. The church has rejected this and claimed the collapse was due to sabotage, caused by a "mysterious aircraft" repeatedly flying over the building. Lagos state authorities have said they would study the coroner's ruling and decide on the next step."UNQUOTE
Even if T B Joshua had been an ordinary person, hiss desire to place the blame for the collapse of his building to a "strange aircraft" would have raised eyebrows, On one level, people would have asked: "But if the technical personnel of the Lagos S6tate Government, who are the constituted authority invested with the power to investigate any building that collapses and kills people, say that the structure was unsound, why should the owner of the building question their finding? Does he not want to know the truth? After all, a 6technical fault is not necessarily the doing of the owner of the building? And what's this about a ""strange aircraft?"" Surely, a simple check at the control tower of Murtala Muhammed Airport would establish whether such an aircraft sortie had occurred, and if so, whether it was capable of destroying a six-floor building and killing 116 people?"
That question raises another one: if a so-called Prophet of God does not want to know the truth about something that pertains to himself, how can he be credited with knowing the truth about things that do not concern him but concern foreign countries, such as Ghana?
The final question, based on all these considerations, is this: If T B Joshua were truly, a man of God to whom God reveals events that are going to happen to nations in the future, how come God did NOT show him things that were going to happen in his own backyard and thus get him to take preventive measures that would have saved the lives of at least 116 people, who lost their lives miserably while attempting to worship God? Would God cut the ground from under the feet of the Prophet Moses? Samuel? Elijah? Jonah? Daniel? Joshua of the ''Trumpets of Jericho" fame?
I repeat: the Ghana Police Service has personnel specially trained to analyse events proficiently and ask cogent questions relating to them. They can even do forensic studies of crime scenes that initially yield no clues. Were such people included in the discussions that resulted in the publication of the police statement on public safety in the wake of T B Joshua's alleged prophecy?
What about the issues that T B Joshua has been involved with in Ghana – were his relations with the late President J A Mills satisfactory to the Police, especially its intelligence wing and the presidential detail, from a national security point of view? Were the police aware of the infamous claim made by T B Joshua that he spoke by telephone to the Black Star team during the World Cup in South Africa?
We can thank T B Joshua, though, for having "lifted" the spectre of a terrorist attack on Ghana, of course. We are also even more grateful to him – for enabling us to realise fully, the type of force that our revered Police Service has turned into..
Revered police force? Yes! In 1963, when people were throwing bombs into public gatherings and killing people, one policeman, Assistantt Commissioner Owusu Sekyere, disguised himself and went to mingle with the crowd at the Accra Sports Stadium during a football match. He saw a man walking in an unusual way -- (in his own choice words) as if he had hernia."
Owusu Sejyere cleverly outflanked the man, wrestled him to the ground and undtressed him. He found a grenade hidden in the underwear of the chap. Thus was a major tragedy averted by the bravery and ingenuity of one policeman. Do the Ghana Police use Owusu Sekyere's heroic feat as a case-study in training its student detectives?
To the best of my knowledge, Owusu Sekyere neither consulted nor consorted with prophets and jujumen. He had a big head (literally!) and he used it to study police methods evolved elsewhere over many years and which are available to all police services that take their job seriously.
www.cameronduodu.com