Maiden Ghana ICT Week Celebration Has Been Launched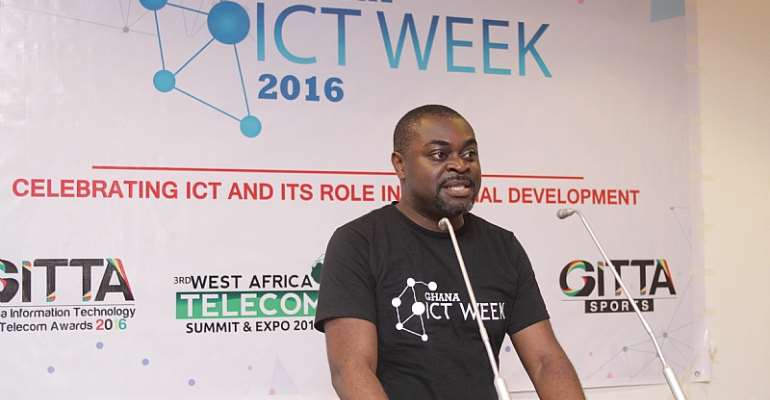 InstinctWave Limited, has launched the maiden edition of the Ghana ICT Week Celebration slated for 16th May to 21st May, 2016.
A statement by Akin Naphtal, Group Publisher of MobileWorld noted that the time is right for the ICT industry to be celebrated for its massive contribution to Ghana's economy.
According to him, Ghana is gradually becoming a wired and technologically developed country with organizations and government agencies adopting ICT based solutions.
"We are proud to host the Ghana ICT Week 2016, the weeklong event will provide a sizzling meeting point for ICT professionals, stakeholders and the general public. The week will also be used to address the global nature of the technology sector and discuss the current and future affairs of ICT in the country," he said.
Mr. Naphtal noted that he is delighted that finally, a week will be dedicated to recognizing the impact of the ICT industry.
He revealed that it was a dream come true for him to launch the ICT Week Celebration.
"It's a dream come true for my team and I. We have spent days and months planning this all important week and we know at the end of it all, the event will achieve its goals," Mr. Naphtal stated.
The maiden edition of Ghana's ICT Week Celebration will focus on "Celebrating ICTs & its Role in National Development".
The theme will retrospect on the massive impact ICTs/Internet has had on the lives of Ghanaians over the years.
It will also focus on the future prospects and way forward for the industry.
Various activities have been scheduled, all of which revolve around ICTs and how they touch every Ghanaians' lives.
It will be a blend of dialogue, entertainment and networking as the major ICT players in the country compete to be the best in sports, social media and service delivery.
The week will draw together all players of the ICT ecosystem; consumers, network operators, ISPs, the public and private sector and serve as an opportunity to reinforce relationships.
The annual event will also serve as a platform to engage all stakeholders to improve processes in the provision of better services to both citizens and businesses, as well as promote public participation.
With Ghana's internet penetration at 19.6%, the ICT Week Celebration will serve as an advocacy to push for a national ICT policy to encourage adoption in rural communities even in the most remote parts of the country.
InstinctWave Limited is the publishers of Africa's only free premium ICT and telecoms magazine, MobileWorld and organizers of the Ghana Information Technology & Telecom Awards, Ghana Construction Awards and the Ghana CFO Awards