19 NHIA Officers Interdicted For Fraud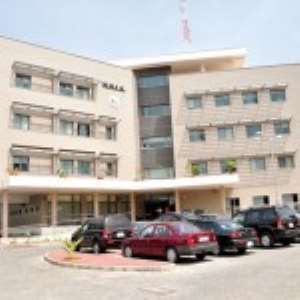 The National Health Insurance Authority (NHIA) has interdicted 19 of its staff following investigations by the Bureau for National Investigations (BNI) into alleged fraud at the Authority.
The decision was taken after management of NHIA had received a formal communication from the BNI relating to the said investigations.
Those interdicted include Alex Odoi Nartey, Deputy Chief Executive, Finance & Investment; Gustav Cruickshank, Director, Internal Audit; Perry Nelson, Director, MIS; Rudolf Zimmerman, Director, Financial Accounting;  Joseph Annor, Senior Manager, Provider Payment Directorate and Enoch Affanyi, Database Administrator – all at the head office.
Others are Isaac Afari, the District Manager at Asutifi; Edward Nkrumah, District Manager at Dormaa; Patrick Kuagbenu, District Manager at Sunyani; Rafat Dawud Ali, District Manager at Jaman North;  Kwaku Asare, Snr. M&E Officer at the Volta Regional Office and Peter Kwasi Sarpong, District Manager, Tain.
Taminu Ahmed, District Manager, Pru; Mohammed Mahmud, District Accountant, Tamale Municipal; Abdul Rahman Abdulai, District Accountant, Asutifi; Elvis Kwadwo Baah, District Accountant, Dormaa; Daniel Beyinuu, District Accountant, Kintampo South; Yaw Simon Gokah, District Accountant, Ashaiman and Richard Denteh, District Accountant, Pru, were also interdicted.
A memo to the staff indicated, "This administrative action, as prescribed by the Conditions of Service and Collective Agreement, is part of due process as the above-mentioned staff continue to assist in investigations.
"It has been decided that management communicates this development to staff as a means of ending the rumour mongering and unnecessary speculations that accompany such activity, and to urge all staff to concentrate on working hard to ensure the sustenance of the scheme.
"Management wishes to advise staff to uphold the highest professional standards in the conduct of official business."
.
The Bureau of National Investigations launched an investigation into some alleged financial malfeasance at the Authority leading to the arrest of the former Chief Executive of the NHIA, Sylvester Mensah, early this year.
Armed security officers from the bureau earlier stormed his house on the eve of New Year in search of the former NHIA CEO, who had been accused of making false claims, in an apparent move to arrest him but ended up leaving without him because he was not at home.
Although the former CEO has not been interdicted, an Accra Financial and Economic Court issued an order for his accounts to be frozen following an ex-parte application filed by the Financial Intelligence Centre.
The NHIA has come under pressure from health insurance providers following delay in the payment of claims by the Authority. The providers recently threatened to withdraw their services to card-bearing patients if their monies were not paid.
According to them, the NHIA owes them over GH¢600 million in seven months' arrears.
However, the Authority has said plans are in place to settle all outstanding payments.
By Jamila Akweley Okertchiri