The True 'Enemies' Within NPP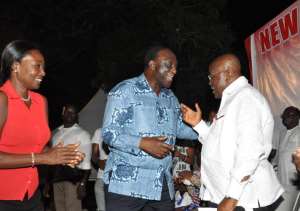 It is often quoted that, "You can fool all the people some of the time, and some of the people all the time, but you cannot fool all the people all the time". There has been an endless suspicion, mistrust, diabolic and evil machinations intended to destroy certain high profile individuals within the party.
Those individuals have been called all sorts of names and accused of championing a fathom Agenda 2020. Unfortunately, many of our party followers are gullible and have been programmed into believing such mischief. It will be too late in the day if our party members refuse to think deep for a moment and begin to realise that the worms eating our fruits are those political entrepreneurs surrounding Nana Akufo Addo.
They started with an Agenda 2012, then 2016, now it is Agenda 2020. Absolute nonsensical isn't it? As at now, a vehicle has been put in motion to blame Kwabena Agyepong and Paul Afoko in the unlikely event that we do not succeed in 2016? They do not want to come to terms that these leaders of our party are going to make Nana Akufo Addo President and take the credit for that.
As a true party member, I won't mince words in exposing the dirty cabals who have made it an enterprise to sow a seed and harvest a fruit of discourse within our party. The following persons have become unrepentantly notorious in undermining the efforts of our elected Chairman and General Secretary and they must be stopped before the party finally sinks.
Dr. Amoako Tuffuor
It is expected that when one attains a certain age in society, he or she is expected to act rightly and just as he or she prepares to meet his maker. However, Dr Amoako Tuffuor has proven beyond reasonable doubt to be the contrary. This is a man, who masterminded and spearheaded all the damaging remarks against Nana Akufo Addo. He single handedly in 2007 and 2008 recruited the likes of Sammi Awuku et al to unleash several text messages and dossiers to the NDC against Nana Akufo Addo.
It was Dr. Amoako Tuffuor who began the Nana Cocaine saga. Today, these turncoats and opportunist have assumed the role of Messiahs and have continued to implore their communist and Machiavellian tactics against innocent people who mean well for the party. What is Dr Amoako Tuffuors role in the NPP except speaking on radio cause mischief? This man is a threat to Nana Akufo Addo's success and the earlier they realize that the better. Dr. Amoako Tuffuor does not believe in Akufo Addo's Presidency and is determined to fan and create divisions within theparty.
Gabby Asare-Otchere Darko
He is noted for his cunning ways and using of surrogates to cause confusion within the party. He continues to draw hatred and enmity for his cousin Nana Akufo Addo. Unfortunately, Nana Akufo Addo has not been successful in asking his cousin to go back to journalism or begin his law practice since he (Gabby) claims he is not a politician. Gabby Asare-Otchere Darko could not manage the Statesman newspaper and the Danquah Institute, yet he sees himself as the best strategist Nana Akufo Addo could ever had.
This man has made enough wealth at the expense of the party and also succeeded in hijacking the communication department of the party through his poodle, Nana Akomea. It is of no wonder that, till date, our party's communication outfit is in tatters. The arrogance of Gabby Asare-Otchere Darko knows no bounds as he continues to spit on the face of all party members including Members of Parliament. Since 2008, Gabby Asare-Otchere Darko aside driving away floating voters with his arrogance and using his surrogates to undermine party structures, he is also noted for massaging research findings to make it look good in the eyes of Nana Akufo Addo.
Lest I forgot, I thought he said he will quit politics in December 2012. I guess he is still around to exploit funds meant for campaigning and clandestinely undermining party structures. Recently, Gabby Asare-Otchere Darko revealed and made a case for running a parallel structure to handle Nana Akufo Addo's campaign. Clearly for him, it is all about the control of resources and how it can benefit their individual pockets and not victory 2016. No wonder they have succeeded in blocking the chances of Dan Botwe of becoming the Campaign Manager because of his no-nonsense and discipline nature.
Ken Ofori-Attah
Unknown to many party supporters, at the centre of all the problems and brouhaha of our party is Ken Ofori-Attah, another cousin of Nana Akuko Addo. Even though they are cousins, Ken has never been interested in Nana Akufo Addo's presidency since day one. He had wanted his father, Jones Ofori-Attah, an Uncle to Nana Akufo Addo, to have become the President of this country and not Nana Akufo Addo.
Ken Ofori Attah since 1996 has worked tirelessly to cut short Nana Akfuo Addo's dreams since he was in competition with his late dad as to who will light up the flame of the Akyem Abuakwa royals. Ken Ofori Attah never supported Nana Akufo Addo in 1998 and continues to do so but in a clandestine manner. Is this not the same Ken Ofori Atta who continues to provide financial and investments to the previous and current NDC governments?
This man continues to exploit Nana Akufo Addo to enlarge his financial empire in the guise of raising funds for him to help his campaigns. He continues to finance people to destabilize the chances of Nana Akufo Addo because he and his brothers have not forgiven him for taken the shine out of their Dad. Ken uses some of the funds he raises in the name of the party and Nana Akufo Addo to fund diabolical operations against the party machinery with the sole aim of making it weak so that they can continue to exploit the party's wealth.
Nana Akufo Addo and the party faithful must open their eyes and ears widely in order to avert the calamity being championed by these true enemies of the Danquah-Dombo-Busia tradition.
The wall has ears indeed!
Mohammed Alhassan
Builsa South Constituency