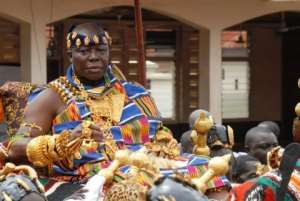 Last week, I heard on air that Otumfuo Osei Tutu II, the spiritual, traditional and cultural head of the Asante Kingdom, was complaining about apparent discrimination against his subjects, the Asantes, by the Mahama-led administration. I followed up and read same in the nation's must read newspaper, DAILY GUIDE, in black and white. Otumfuo said word had gotten to him that people from Asante extraction, or with names like Osei, Owusu, Boakye, Bempah, add to them, are denied jobs and other opportunities of state just because they are or are perceived to be Asantes.
My worry is that it has taken the advisors or intelligence of the Great King such a long time to notice the open discrimination against his subjects by the NDC administration. Otumfuo, this did not start yesterday. From January 7, 2009, hundreds of Ghanaians with Akan names suffered open discrimination at the hands of the Atta Mills-led government. Sadly, in this country non Akans can easily be identified by their names while it is very difficult or can be misleading to trace an Akan name to where a person comes from because some non Akans bear pure Akan names.
Unfortunately, in my opinion, Asantes have been hated by some minority ethnic groups in this country for two main reasons:
One, their exploits in the pre and colonial era tribal wars in this country now called Ghana. The resistance to colonial rule by the Asantes contributed immensely towards this nation's independence and nationhood. They fought the colonial masters on eight occasions with reasonable success. The second reason is their industriousness as a people. They are undoubtedly very hardworking people. The ordinary Asante will do everything possible to get himself or herself out of poverty. Being human beings, there are still a few among them who will use unorthodox, fraudulent and, in some cases, criminal means to achieve what they want. But is that peculiar to Asantes alone?
Some ethnic groups have hated and still hate Asantes for tribal wars of old in which the Asantes conquered them; others still hate them because they 'are too proud' to flaunt their hard won wealth. Sometimes the opulent display of their wealth is enough to attract the hatred of others. This is borne out of envy. Some of them never appreciate their industriousness. A youthful Asante with no hope in his hometown, takes the risk of travelling to a city he has no relations in and begins life as a 'shoe shine boy', sleeps in kiosks, is prudent in his spending, makes all the sacrifices he possibly can, saves money and moves on to the next stage of his hustling. So they begin as shoe shine boys, move into trading in earrings, watch straps, chains of varied forms, then to used clothing and on and on and on.
Meanwhile, the indigenes of those cities sit at home oblivious of the opportunities available to them.
And when in no time the hustling Asante lad is gradually succeeding, he or she becomes a target of envy and disdain. When I was growing up, every young Asante was painted as a thief for no other reason than the fact that they were plying their commercial businesses. Their creativity had made them the producers of substitutes for a lot of imported goods into this country. Many Ghanaians did not appreciate the efforts or the entrepreneurial skills of Asantes but denigrated their efforts by giving them names like 'matrike wo '(I have tricked you) or such terms as 'Asante Made'. The typical Ghanaian would prefer to buy an item made by a Chinese to the one made by his fellow citizen who happens to be an Asante.
I remember as a young guy hustling in Lagos, Nigeria, in the early 1980s, a Yoruba friend accompanied me to buy an item from an Ibo trader. I was pleased with the item but the Yoruba friend objected to my buying the item because it was 'Ibo Made', a euphemism for inferior item. The Ibo trader looked into the face of the Yoruba man and asked, 'Which one be Yoruba made? If Yoruba people too dey make something, like Nigeria no go import anything from the Oyibo country.'
So deep seated has been this hatred towards Asantes and their industry that when Rawlings succeeded with his blind revolution, he targeted Asante business people like Boakye Mattress, Two Brothers, B.A. Mensah, Siaw, Appentengs, Appiah Menkahs and a number of them and destroyed their businesses without any legal basis. Ironically, Asantes are the most de-tribalised people in this country. Ignore their sometimes provocative language towards others; they do not mean them, they never discriminate against others on grounds of anything.
The best footballers Asante Kotoko had were people of the northern extraction. They cherished, adored and respected them. Manhyia is the only Palace in this country which has all the key ethnic groupings represented there, and yet those people or most of them have innate hatred towards Asantes who have welcomed them and see them as part of them. Otumfuo, truth be told, it is not only Asantes who have been discriminated against by the Mahama administration. Indeed all Akans with names sounding Asante have been discriminated against, even though inter-marriages in this country can give one an Asante or Akan name without the person being necessarily an Asante.
Recent recruitments in the public sector have been tilted against Akans by virtue of our names. Top positions in many public sectors have gone the way of the three Northern Regions. That is the truth, even though others will not be happy about it. I bear no grudge against those in those positions except that it is not fair and it is a threat to our national security, unity and cohesion. One simply has to take a look at the corruption going on in many of the Mahama instituted public funded agencies and even the existing ones and those who head them to confirm this fact.
There is so much hypocrisy in this country to the extent that in the interest of someone's defined 'peace', pernicious and insipid acts with the potential to explode are swept under the carpet all in the name of national unity and peace. No country can have sustainable peace and national unity when the majority of the people are discriminated against for no other reason than political, sheer hatred and envy.
The irony of this situation under the Mahama regime which was inherited from the Rawlings era is that successful business people of Asante extraction extend their generosity to other people and communities outside the Asante territory. What has Kwame Despite, a young Asante hustler who has built an empire through hard work, discipline, sacrifices and honesty, not done to extend his generosity to individuals and groups who are not necessarily Asantes? Just about a week ago, Peace FM mid-day news told a harrowing story of an unemployed man who had virtually abandoned his wife because she had delivered triplets.
Kwame Despite immediately came to the family's aid by offering GH¢10,000 and food items for the babies for a period of time. I am not sure the family is an Asante family; and even if they are, he did not do that because they are Asantes. The hounded Tobinco spent hundreds of thousands of cedis on his 50th birthday to support a community in the Volta Region. The NDC under Atta Mills and Mahama attacked young Asante businessmen in the Herbal Medicine industry in 2009 with the aim of collapsing their businesses. What has Asantes done wrong in this country?
Now that Otumfuo has realised this sometimes subtle but pernicious discrimination against his people, well, maybe he may not dance to the tune of Yentie Obiara with the person leading this onslaught against Asantes. I wish to recommend Nana Kwame Ampadu's 'nea woaye me nti, me ne wo ennante biom'.    It is a tune of the 1970s and will go down well with Otumfuo's majestic movements on the dancing floor.
Let me take my two tots of mahogany bitters to sleep off the darkness which has engulfed me.
Kwesi Biney [email protected]