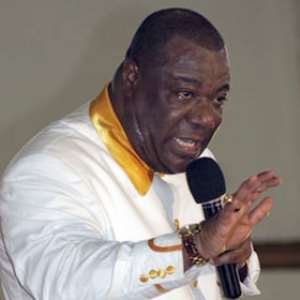 Archbishop Nicholas Duncan-Williams says he has never gone begging any President in Ghana, Africa, or elsewhere for favours.
"I don't depend on them for anything, so nobody will say they made me who I am. I am what I am by the grace of God", the charismatic Ghanaian preacher told his congregation at the headquarters of the Christian Action Faith Ministries (CAFM) in Accra on Sunday October 26, 2014.
"When I prophesied over Obasanjo becoming president of Nigeria, when he became president and I went there, some of my preacher-sons in Nigeria said: 'Ah Papa, why don't you ask him for oil [an] block, he's giving people oil blocks. Ask him for [an] oil block now'. I said: 'No. God didn't ask me to prophesy for oil [an] block, and up to today, I maintain respect with President obasanjo because I never asked him for a dime, not a dollar, he can't stand anywhere to say: 'When he was president, me, I came to Aso Rock [presidential Villa in Abuja] and asked him for a dime'. Never. He can't", Duncan-Williams said.
He added: "No president: not president Rawlings or president Kufuor or president Prof Mills of blessed memory – no one can say, me, I came to them. No. I've learned to believe God".
Duncan-Williams, who has been in the charismatic movement for 38 years also said: "When I was in Liberia early this year to meet the president, the vice president and the senate; talked to them about an impending danger coming; called for prayer meetings and they started meeting; prayed few times – don't know what happened to the prayer meeting – I never said to the president: 'Madam pay for my ticket or my hotel. Never'. I was in Sierra Leone last year, same thing, never asked the president to pay for my ticket. I bought my own ticket, paid my own bills, carried money with me, I don't depend on them for anything", he emphasised.