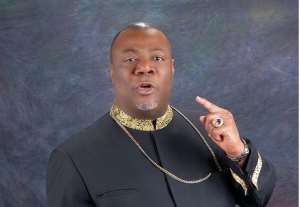 Charismatic cleric Archbishop Nicholas Duncan-Williams has revealed that one of his pastors in Ebola-ravaged Sierra Leone, recently called him on phone and complained of febrile symptoms, which may resemble the signs of the festering haemorrhagic virus.
"…I don't like it when I see people destroyed. If you know the news I'm getting from Sierra Leone and Liberia about this Ebola virus: somebody called me and said: 'Papa what do I do?' One of my pastors in Sierra Leone. He called me and I said: 'How are you doing?' And he said: 'Papa I have fever, I've fever; it's malaria'. And I said: 'Tell me about the symptoms'. When he finished telling me, I said: 'Let me call somebody to call you, I have to make some call quickly'. He said: 'Papa I want to come home', and I said: 'You can't come. I said you can't come home' and I said: 'If you do, you can't come and see me. You'll not be allowed by security to enter this premises. You don't know how I feel about that. And he's one of my pastors. You have no idea what we are dealing with. It's a killer'", the Founder of the Christian Action Faith Ministries narrated to his congregation Sunday October 19, 2014.
The latest outbreak of the killer virus, characterised by fever and severe bleeding from the body's various orifices, has killed about 1,200 people in Sierra Leone, alone, and more than 4,500 across West Africa.
In the worst-affected countries - Liberia, Guinea and Sierra Leone - 9,191 people have been found to have the virus, which the World Health Organization (WHO) says kills 70% of patients.
Other nations: Nigeria, DR Congo, Senegal, USA and Spain, have also recorded a few cases. The World Health Organization (WHO) has described the epidemic as the worst ever in history.
Duncan-Williams, on Sunday October 12, 2014 declared days of fasting and prayer to keep the Ebola Virus away from Ghana. He told his congregation on that Sunday that he had a revelation that the "demonic" disease had targeted Ghana between October and November.
"…I've declared another fast on Thursday because on Wednesday, I was resting and [at] 1 am, the Spirit of the Lord woke me up and He said: 'Are you sleeping?' And I said: 'Yes I'm sleeping', and He said: 'Wake up!' So I did and He said: 'You have to go into prayer because the Ebola virus is looking for a door to enter your country between October [and] November'. So I'm telling you, you can write it down. I don't just say things. I put 38 years of credibility on the line. So if I don't hear, I don't talk. When I say it you better believe it', the charismatic leader said.