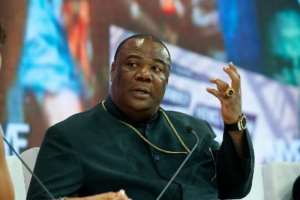 Duncan-Williams
Archbishop Nicholas Duncan-Williams of the Action Chapel International has declared a fast on Thursday for his church members to pray and ward off what he describes as a demonic ebola virus disease which has targeted Ghana as a next destination between now and November.
So far over 4000 people have died from the deadly ebola virus in Guinea, Liberia, Sierra Leone and Nigeria.
A health care worker in the United States of America (USA) was Sunday confirmed to have contracted the virus in the USA after coming into contact with the Liberian, Thomas Duncan, who travelled there with the disease and was receiving treatment but died.
Ghana has not recorded any incident with regards to the disease.
According to Archbishop Duncan-Williams, there was the urgent need for Ghanaians to pray because the ebola virus was looking for "a door to enter the country [Ghana]".
He said this in a sermon at his church in Accra on Sunday.
"In the last days there will be difficult times, time of troubles, adversities, times of unrest, wars, earth quakes, tsunamis, hurricanes, ebola virus. I have declared another fast on Thursday because Wednesday I was resting and at 1am the spirit woke me up."
Spirit: "Are you sleeping."
Duncan-Williams: "Yes I'm sleeping."
Spirit: "Wake up, you have to go into prayer because the ebola virus is looking for a door to enter your country between October November."
Duncan Williams: "So I am telling you, write it down. I don't just say things, I'm putting 38years of credibility on the line. So if I don't hear, I don't talk, so if I see it, you better believe it."