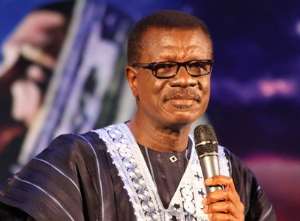 'We are in this ocean and our ship is going down. I haven't given you a lot to be happy about.  That is not my job.  We can't  pretend it is a  party on board our ship, and I hope the captain of the ship doesn't behave like the captain of the first Titanic who was so over-confident that he allowed  thousands of people to die just because he wasn't prepared for the crisis'  - Pastor Mensah Otabil, Founder of International Central Gospel Church (ICGC)
I was watching my old black and white television after taking my supper when my five-year-old grandson walked in and sat on my lap. In fact, because I did not enjoy the meal that evening, I was angry with myself, and of course, scientists who said we should stop eating bush meat because of Ebola, when the boy walked in.  Ebola had robbed me of my bush meat and I had to make-do with fish, something I seldom eat in the evenings.  As we were watching the television, Mr. Rawlings appeared on the screen, wearing an academic gown with a hat to match.  When Mr. Rawlings started delivering his speech, my grandson asked:  'Papa, what is the name of this white Bishop?' I laughed till I nearly wet my pants with urine.
On a more serious note, the observations of Mr. Rawlings and Pastor Otabil need serious digestion.  If the two statements had been made by Mr. Kufuor, Nana Akufo Addo, Dr. Bawumia or any other politician, I would not have worried my head over it because as usual, people will read political connotations into them.  But for a man of God and a former President and the founder of the ruling party to make such observations, Ghanaians need to take them seriously.
When people took on Rawlings for being silent in the face of the rot that is going on in the John Mahama administration, I did not blink an eye because I knew my man will strike at the appropriate time.  There were people who were of the view that the hands of Rawlings had been greased by Mr. Mahama, hence the silence.  After ruling the country for nearly twenty years, do you think Rawlings will stoop so low? It has been two weeks since Rawlings made his thought-provoking statement, but not a single 'baby with sharp teeth' has come out to condemn him.  If it were Dr. Bawumia who made this statement, people like Felix Ofosu Kwakye and Fiifi Kwettey would have jumped on his back and ridden as if he were their 'co-equal'
The Akans say if you find something bad near your mother's private part and you use your penis to remove it, it doesn't mean you have had sex with your mother.  Rawlings is also a human being.  He lives in this country and feels the heat like you and I do.   The other day when Ayittey Powers and Bukom Banku paid him a courtesy call, he seized the opportunity to tell Ghanaians that times were hard.  He said a carton of milk he used to buy at GH¢35 now cost him GH¢60.  Until Rawlings revealed that secret, some of us used to think that all was well with the man and his family members.  So you see, after all, Mahamanomics is biting everybody, including former Heads of State.  As for former President Kufuor, I am sure he cannot complain, knowing very much that if he tried to complain, the NDC rented press will take him to the cleaners.  They are not doing same to Rawlings because, as the Akans say, the lion watches over his farm with his name but not his presence.  They know if they dare, the lion in Rawlings will come out and roar and they will be the losers.  Who say man no dey?
Pastor Mensah Otabil is surely a bold and brave man of God.  Like Prophet Jeremiah, this visibly intelligent pastor has never been found wanting when it came to saying it in public, damn the consequences.  Pastor Otabil is not like Prophet Nathan who will visit David, 'Nichodemusly' to tell the king of his sins when he impregnated the wife of Uriah.  Even before the chips could fall, an upstart like Samuel George, a boy who never landed a job anywhere on this globe and can only boast of being an NDC communicator, unduly took on the fine gentleman.  He accused the pastor of putting up the semblance of a man of God while his conduct is that of a businessman.  Come again Mr. Ignoramus. Who told you a man of God cannot be a businessman or cannot work for a living for that matter? Pastor Otabil has established the Central University College as his contribution towards the standard of education in this country.  What has Samuel George done in this country except to talk illogically on issues he himself doesn't understand, anyway?
Small boy, read this letter written by Apostle Paul to the Thessalonians:  'Our brothers and sisters, we command you in the name of our Lord Jesus Christ to keep away from all believers who are living a lazy life and who do not follow the instructions that we gave them.  You yourselves know very well that you should do just what we did.  We were not lazy when we were with you.  We did not accept anyone's support without paying for it.  Instead, we worked and toiled, we kept working day and night so as not to be an expense to any of you. We did this, not because we have no right to demand our support, we did it to be an example for you to follow.  While we were with you, we used to say to you, 'Whoever refuses to work is not allowed to eat.'  We say this because we hear that there are some people among you [like Samuel George] who live lazy lives and who do nothing except meddle in other people's business.'
Did I hear Sam say that Pastor Otabil was exhibiting signs of 'skin pain' of the withdrawal of his Diplomatic Passport by the NDC administration under former President John Mills? The spokesperson of Pastor Otabil, Pastor Albert Ocran, has come out to deny categorically that Pastor Otabil has never requested, never accepted and has never had a diplomatic passport at any time in his life.  Sam the NDC communicator, come clean and prove what you said about the withdrawal of a diplomatic passport issued to Pastor Mensah Otabil or continue to live in shame.  Your government is in power, and so it is not difficult getting all the information you need from the Foreign Ministry as far as the issuance of diplomatic passports is concerned.
You see, people like this Samuel George, who are not accustomed to verbal moderation are making things very difficult for Mr. Mahama.   This Samuel George has no experience and he relies solely on his ability to open his mouth wide in order to draw attention through insults and uncouth attitudes.  Had it not been for politics, who is Samuel George to even lace the shoes of Pastor Otabil?  All too soon, unto us is come the season and fullness of time when children born only yesterday could muster the courage to insult self-made men.  Indeed unto us is come the fullness of time when accomplished statesmen could be treated like dirt by obviously mediocre opportunists and indiscipline upstarts.
For some time now the likes of Baba Jamal, Okudzeto Ablakwa, Fiifi Kwetey, Agyenim Boateng etc have toned down, but not this boy called Samuel George.  I hereby serve notice that I am going to be the self-appointed defender of the defenceless and the mouthpiece of accomplished gentlemen, anytime they came under attack by so-called NDC communicators.  And mind you, it is going to be brisk, abrasive, acerbic, caustic in tone, brusque, acidic, rough and ready.  I am sorry for disturbing you with a chain of adjectives. I am just releasing my irreverent self out of anger. These boys who have suddenly grown feathers and acquired the penchant of taking on statesmen should remember that honour is not like milk which is sold at the supermarket.  Honour is earned.  People have come a long way to become what they are today, only for people like Samuel George to go down the gutter and smear them with dirt.
If you have been a cigar connoisseur  like this Earth Angel Gabriel, you will realise that one thing many cigar smokers can agree on is that Honduran cigars are well known for their full strength and full body, and that's, thanks to a large number of the best Honduran cigars using Ligero in their construction.  Let me light up Plasencia Honduran Churchill and just be.